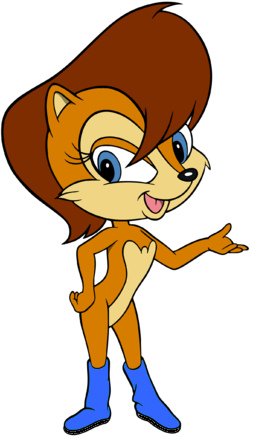 Princess Sally Alicia Acorn
is a character from the
Sonic the Hedgehog SatAM
cartoon series and the Archie comics. She is the tomboyishly beautiful daughter of
King Maximillian Acorn
.
Counterparts (Girl Version) (Do not delete, but you can add)
Emily, Molly, Mavis, Rosie, Belle, Daisy, Elizabeth, Flora, Isabella (Pack), Caroline, Annie, Madge, or Lady (Thomas the Tank Engine and Friends)
Rebecca or Emily (Theodore Tugboat)
Hello Nurse or Minerva Mink (Animaniacs)
Penelope or Lanolin (Garfield and Friends)
Penelope Pitstop (Wacky Races/The Perils of Penelope Pitstop)
Lola Bunny or Tweety's Girlfriend (Looney Tunes)
Gorgeous Gurinder (Horrid Henry)
Helga G. Pataki (Hey Arnold)
Zephie (Chuggington)
Maxine the Cement Mixer (Construction Site)
Carly or Sam (iCarly)
Victoria Justice (Victorious)
Georgia or Tillie (The Little Engine That Could)
Lois Griffin or Barbara Pewterschmidt (Family Guy)
Twilight Sparkle, Rarity or Princess Cadence (My Little Pony: Friendship is Magic)
Tootie, Trixie Tang, the Tooth Fairy, Wanda or Blonda (The Fairly OddParents)
Sam Manson (Danny Phantom)
Daphne Blake (Scooby Doo)
Tracy, Savannah, Brenda Blue or Tuffy (Jay Jay the Jet Plane)
Wendy Testaburger, Shelly Marsh or Liane Cartman (South Park)
Yo (Fanboy & Chum Chum)
Numbuh 362 or Numbuh 5 (Codename: Kids Next Door)
Tessie Bear (Noddy's Toyland Adventures)
Sara Clifton (Postman Pat)
Penny Morris (Fireman Sam)
Gia or Gloria (Madagascar)
Timon's Ma, Sarabi, Adult Nala, or Young Nala (The Lion King)
Minnie Mouse, Daisy Duck or Clarabelle Cow (Mickey Mouse)
Rebecca Cunningham (Talespin)
Panini or Truffles (Chowder)
P

eppermint Patty, 

Sally Brown, or Lucy Van Pelt (Peanuts)
Pigita (Pearls Before Swine)
Kumatora (Earthbound/Mother)
Hortensia or Miss Honey (Matilda)
Thorn Harvestar (Bone)
Jigglypuff or Zero Suit Samus (Super Smash Bros.)
Mari (Drawn to Life)
Ecolis (Eco Creatures: Save the Forest)
Samus or Zero Suit Samus (Metroid)
White Pikmin (Pikmin)
Angel or Nani (Lilo & Stitch)
Princess Leia or Mon Mothma (Star Wars)
Helen Parr or Violate Parr (The Incredibles)
Vanessa Bloome (Bee Movie)
Jennifer Parker (Back to the Future)
Alia (Mega Man X)
Lady Tottington (Wallace and Gromit)
Tyris-Flare (Golden Axe)
Blaze Fielding (Streets of Rage)
Gatomon (Digimon)
Izzy, Gwen or Anne Maria (Total Drama)
Princess Fiona or Dragon (Shrek)
Ms. Pac-Man or Pinky (Pac-Man)
Wilma Flintstone (The Flintstones) 
Flame Princess (Adventure Time)
Miss Eglantine Price (Bedknobs and Broomsticks)
Nora (Pete's Dragon)
Dottie or Ishani (Planes)
Roller Brawl or Flashwing (Skylanders)
Kara (2010 Tekken Movie)
Tomoe Ame (Usagi Yojimbo)
Elsa (Frozen)
Jun Kazama, Asuka Kazama, or Ling Xiaoyu (Tekken)
Lara the Ladybug or Miss Cassandra (Maya the Bee/Movie)
Counterparts (Boy Version)
Henry, Thomas, Skarloey, Gordon, James, Percy, Duck, Oliver, Bertie, Harold, Trevor, Terence, Salty, Jack, Sir Topham Hatt, Toby, Edward, or Culdee (Thomas the Tank Engine and Friends)
Espio the Chameleon, Ray the Flying Squirrel, Knuckles the Echidna, Shadow the Hedgehog, Silver the Hedgehog, Vector the Crocodile, or Sonic the Hedgehog (Sonic the Hedgehog)
Warrior or Ten Cents (TUGS)
RS Mr. Conductor (Shining Time Station)
Toad or Mario (Super Mario Bros.)
Sudowoodo or Pikachu (Pokemon)
Iroo or Kirby (Kirby)
Odie or Orson Pig (Garfield and Friends)
Stanley S. SquarePants, SpongeBob SquarePants, Patrick Star, Squidward Tentancles, Gary the Snail, Larry the Lobster, Mr. Krabs, or Jim the Original Fry Cook (Spongebob Squarepants)
Little Beeper, Buster Bunny, or Bugs Bunny (Tiny Toon Adventures)
Wreck-It Ralph (Wreck-It Ralph) 
Benson (Regular Show)
Gennai (Digimon)
Prof. Emelius Browne (Bedknobs & Broomsticks)
Paul (Pete's Dragon)
Chop Chop or Master Eon (Skylanders)
Leatherhead, Mondo Gecko, Fugitoid, Ray Fillet, Casey Jones, Leonardo, Nobody, Carter, Traximus, Napoleon Bonafrog, or Raptarr (Teenage Mutant Ninja Turtles)
Optimus Prime or Vector Sigma (Transformers G1)
Alex the Lion (Madagascar)
Doc Brown (Back to the Future)
Alec Baldwin's Mr. Conductor (Thomas and the Magic Railroad)
Counterparts (Fleetway Version)
Counterparts (Animaniacs Version)
Gallery
See also
Ad blocker interference detected!
Wikia is a free-to-use site that makes money from advertising. We have a modified experience for viewers using ad blockers

Wikia is not accessible if you've made further modifications. Remove the custom ad blocker rule(s) and the page will load as expected.