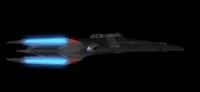 Die XSC (Experimental Ship Class) Prometheus ist der letzte schwere Kreuzer, der von den Kree-jin in ihren letzten Kampf gegen Freezer konstruiert wurde. Leider wurde es nicht mehr rechtzeitig fertiggestellt. Es konnte lediglich nur mehr einigen versprengten Kree-jin Familien auf ihrer Flucht vor Freezers Häschern helfen, bevor es schließlich für fast 200 Jahre stillgelegt wurde.
In der Neuzeit wurde die Prometheus allerdings wieder von Kay reaktiviert, der sie Azrael zum Geschenk machte. Dieser war auch über lange Zeit hinweg der einzige, der Befehle an die KI der Prometheus richten konnte, aufgrund eines Sicherheitsmechanismus, der nur Kree-jins zuließ. Dieser Sicherheitsmechanismus wurde aber noch vor Beginn der Insektoiden-Invasion auf Erden entschärft, wodurch im späteren Verlauf auch andere Wesen mit (eingeschränken) Befehlsgewalten akzeptiert wurden.
Speziell in den Zeiten der Invasion diente sie den Kämpfern der Erde als mobile Basis, sowie Feldlazarett.
Ad blocker interference detected!
Wikia is a free-to-use site that makes money from advertising. We have a modified experience for viewers using ad blockers

Wikia is not accessible if you've made further modifications. Remove the custom ad blocker rule(s) and the page will load as expected.