Psycho Dad Is The Main Character of McJuggerNuggets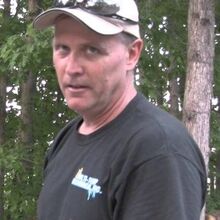 Counterparts
WARNING: You may add appropriate counterparts. But, do NOT delete any.
Thomas, Murdoch, James, Sir Handel, Gordon, or Henry (Thomas the Tank Engine and Friends/The Railway Series)
Ten Cents, Top Hat, Big Mac/Big Stack, or Warrior (TUGS/Salty's Lighthouse)
Theodore, Foduck, George, Inverness, or Digby (Theodore Tugboat)
Wilson, Emery, Harrison, Dunber, or Chatsworth (Chuggington)
RS Mr. Conductor (Shining Time Station)
Mario, Oogtar, Luigi, Donkey Kong, Wario, or Mallow (Super Mario Bros.)
Sonic the Hedgehog, Antoine D'Coolette, Knuckles the Echidna, Vector the Crocodile, Big the Cat, or Espio the Chameleon (Sonic the Hedgehog)
Orson Pig or Garfield (Garfield and Friends)
Sawtooth, Rufus Ruffcut, Red Max, Sergeant Blast, or Blubber Bear (Wacky Races)
Rug Bug Benny/Snoozy (The Perlis of Penelope Pitstop)
Yakko Warner, Dr. Otto Scratchansniff or Flavio (Animaniacs)
Buster Bunny (Tiny Toon Adventures)
Bugs Bunny or Daffy Duck (Looney Tunes)
Henry's Dad (Horrid Henry)
The Cat in the Hat (Dr. Seuss/The Wubbulous World of Dr. Seuss)
Jerry Mouse (Tom and Jerry)
SpongeBob SquarePants, Patrick Star, Mr. Krabs, Squidward Tentacles, or Stanley S. SquarePants (SpongeBob SquarePants)
Stu Pickles (Rugrats)
Peter Griffin or Mort Goldman (Family Guy)
Homer Simpson or Barney Gumble (The Simpsons)
Ash Ketchum, Pikachu, Turtwig, Buizel, or Sudowoodo (Pokemon)
Kirby, Tokkori, Knuckle Joe, King Dedede, or Rick the Hamster (Kirby)
Bob Duncan (Good Luck Charlie)
Pac-Man (Pac-Man)
Ryu (Street Fighter)
Mickey Mouse, Donald Duck, Goofy Goof, Scrooge McDuck, or Horace Horsecollar (Mickey Mouse)
Winnie the Pooh, Tigger, Rabbit, Christopher Robin or Lumpy the Heffalump (Winnie the Pooh)
Fix-It Felix Jr. or Wreck-It Ralph (Wreck-It Ralph)
Phineas Flynn, Lawrence Fletcher, or Jeremy Johnson (Phineas and Ferb)
Fanboy, Kyle Bloodworth-Thomason, Mr. Hank Mufflin, Sigmund The Sorcerer, or Oz (Fanboy & Chum Chum)
Eddy (Ed, Edd, 'n' Eddy)
Numbuh 1 or Numbuh 0 (Codename: Kids Next Door)
Edward Elric or Van (Fullmetal Alchemist)
Shrek (Shrek)
Mac (Foster's Home for Imaginary Friends)
Alvin Seville, Simon Seville, or David Seville (Alvin and the Chipmunks)
Shaggy Rogers, Scooby Doo, Robin, Batman or Fred Jones (Scooby Doo)
Alex the Lion (Madagascar)
Po the Panda (Kung Fu Panda)
Shaun (Shaun the Sheep)
Gumball Watterson, Richard Watterson, or Principal Brown (The Amazing World of Gumball)
Lightning McQueen (Cars)
Baloo (Talespin/The Jungle Book)
Roger Rabbit (Who Framed Roger Rabbit)
Dexter or Dexter's Dad (Dexter's Laboratory)
Boomer, Brick, Bossman, Big Billy, or Professor Utonium (The Powerpuff Girls)
Mordecai, Benson, Skips, or Pops (Regular Show)
Big Bird, Ernie, Bert, Cookie Monster, or Telly Monster (Sesame Street)
Dusty Crophopper (Planes)
Pauly Falzoni, Bobo Gigliotti, or Jim Smith (Fat Pizza)
Takua (Bionicle)
Fireman Sam (Fireman Sam)
Zero (Mega Man X)
Ruff Ruffman (FETCH! with Ruff Ruffman)
Rupert's Father (Rupert)
Jin Kazama Bob Richards or Paul Phoenix (Tekken)
Lazlo (Camp Lazlo!)
Willy the Bee, Flip the Grasshopper, Judge Beeswax or Kurt (Maya the Bee/Movie)
Bowser, Chef Pee Pee, or Bowser Junior (SuperMarioLogan)
Anger (Inside Out)
Chris McLean (Total Drama)
Ad blocker interference detected!
Wikia is a free-to-use site that makes money from advertising. We have a modified experience for viewers using ad blockers

Wikia is not accessible if you've made further modifications. Remove the custom ad blocker rule(s) and the page will load as expected.