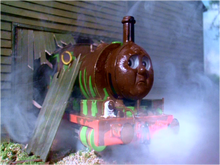 Puff Puff Pastry is the eleventh book of The Railway Series Continues.
Previous Book: The Christmas Wonderland
Next Book: Jack and His New Friends
Message
Dear Friends,
I have announced i will make this book be a smash hit with you guys of your favorite episode of all time in the sixth season of the television series, and that is...Percy's Chocolate Crunch and this one is titled Puff Puff Pastry for the book, and today we are going to see Percy take a chocolate special to the chocolate factory, We are seeing Donald and Douglas have a fallout from an accident with a cart of hay, and watch Diesel come back to Sodor to show how better he was than Henry and we are going to see what happens when Cranky is always a cranky crane.
Thanks for listening to this message.
Yours Truly, The Author.
Stories
Puff Puff Pastry
Percy is complaining when he is restricted to one washdown a day, but he gets even dirtier than ever when he takes the load of chocolate to the chocolate powder.
Twins Falling Apart
Donald and Douglas were taking a load one day and Trevor was stuck because the cart load of hay's wheels had broken off by accident and when Donald saw that cart, he and Douglas applied their brakes, but they crashed and after they had an accident, the Scottish twins decided to have a fallout.
Diesel Returns
When Henry has an accident, Diesel returns and becomes to be the only engine available to do Henry's jobs. Diesel soon sets out to prove he is the world's strongest engine. But the engines learnt that trucks can do you a favor it send Diesel packing.
No More Sleep for You, Cranky!
Cranky hated Salty and his stories. Then he accidentally traps Salty, Bill and Ben at the docks and after a night of Salty's stories. He promises never to be mean to Salty ever again.
Song
Never, Never Give Up! - Mike O Donnell and Junior Campbell.
Characters
Thomas
Henry
Gordon
James
Percy
Harold
Harvey
Salty
Bill and Ben
Cranky
Diesel
Donald and Douglas
The Fat Controller
Duck
Trevor
Annie and Clarabel (do not speak)
Oliver (cameo)
Isabel (cameo)
Toad (cameo)
Toby (cameo)
Edward (cameo)
'Arry and Bert (cameo)
Jem Cole (cameo)
The Storyteller (cameo)
Stephen and Bridget Hatt (cameo)
The Thin Controller (cameo)
The Tailor (cameo)
The Refreshment Lady (cameo)
Nancy (cameo)
The Fisherman (cameo)
Farmer Trotter (cameo)
The sailor (not seen; not named)
Trivia
This book features the most characters.
This book is adapted with No Sleep from Cranky, The World's Strongest Engine, Percy's Chocolate Crunch and Twin Trouble from the sixth season of the television series.
This book features one story based on both episode by David Mitton and Paul Larson and Showing Off by Andrew Brenner!
Goofs
The guard is missing on Percy's train at one point.
In real life, Percy would get dirty all day if he never gets clean.
Ad blocker interference detected!
Wikia is a free-to-use site that makes money from advertising. We have a modified experience for viewers using ad blockers

Wikia is not accessible if you've made further modifications. Remove the custom ad blocker rule(s) and the page will load as expected.