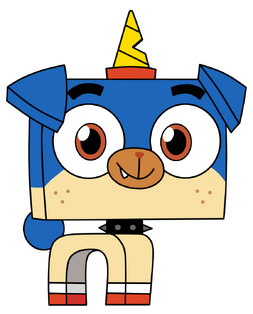 Puppycorn is a character in Unikitty!.
Counterparts

 WARNING: You may add appropriate counterparts. But, do NOT delete any.
Beast Boy (Teen Titans)
Harry Potter (Harry Potter)
Clarence Wendell (Clarence)
Panda (We Bare Bears)
Ten Cents (TUGS)
Thomas (Thomas the Tank Engine)
Holt Hyde (Monster High)
Dexter Charming (Ever After High)
Ross Geller (Friends)
Phillip J. Fry (Futurama)
Lumière (Beauty and the Beast)
Mario (Super Mario Bros.)
Sonic the Hedgehog (Sonic the Hedgehog)
Ash Ketchum (Pokemon)
Kirby (Kirby)
Peter Griffin (Family Guy)
Homer Simpson (The Simpsons)
Arthur Read (Arthur)
Captain Olimar (Pikmin)
Donkey Kong (Donkey Kong Country)
Ad blocker interference detected!
Wikia is a free-to-use site that makes money from advertising. We have a modified experience for viewers using ad blockers

Wikia is not accessible if you've made further modifications. Remove the custom ad blocker rule(s) and the page will load as expected.