A new site and CMS for A Rocha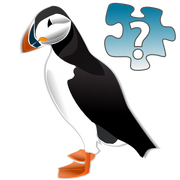 The Puffin is puzzled. For a while it has had a nice home, but now it feels it should change. To where? Or better - to what?
Now, seriously: this page is an attempt at defining the new A Rocha web site. What should be in it, what shouldn't? How can we use the Internet to better communicate who we are and what we do, and how can we use it so our teams work better?
Most of you know we have a Content Management System (here's a definition of CMS.) It has served us well since 2003, back when CMS's were very experimental. Now it's 2007; the Internet has changed and opened new possibilities; A Rocha has grown; and it's time we start debating how our new home on the web will be like.
Marie thought of creating a document with ideas for what the new site needs to do, and so how the new CMS should work to make it possible; Júlio thought of having it done as an online collaboration instead of sending e-mails back and forth... and thus the Puzzled Puffin was born.
Escreva por favor em sua língua, porque nosso Website ideal permitirá a tradução! Feel free to write in any language, because our ideal website will do translation! Écrivez svp dans votre langue, parce que notre solution idéale permettra la traduction !
We should have come to some good ideas before the Leaders' Forum.
Help & tips
This site uses the same software as Wikipedia. If you are familiar with it, jump to the actual debate page, A Rocha's new web site. If not, then keep reading!
Warning: This site is public
This is an open web site, which means anyone can read what you write - and also, that anyone can edit this page. That's why you should register yourself first before participating. We should be able to tell who is writing what.
This is not the place for private conversations; you should e-mail people instead. The site keeps all versions of old pages, so adding something and then deleting it will not make it go away. Since we are borrowing this space, there's nothing Júlio or anyone can do about that.
Identify yourself
Register yourself. Don't edit anonymously. Anyone can edit these pages, and we need to know who you are. To register, click here. Your name will identify you when you edit the page.
Log in. To know if you're logged in, check on the very top of a page; if it has your name, and then "my talk" - "my preferences" etc. you are logged in; if instead it says "Log in/create account" you're not. Click there to enter your username and password.
Sign what you edit. When you edit something, sign what you add, using the "signature" button that will appear at the top of the edit interface (third from the right). When you click it, it will type into the interface something that looks like ~~~~ (four tildes.) When you click "Save Page" after an editing session, your username and the time is what will appear there instead; that's because it is useful to know who said what when.
Please add your name to the Participants page!
Be bold
Don't be afraid to try editing the discussion. You can't break anything, as the system keeps older versions of any page you edit, and they can be easily restored; see the "history" tab at the top of the page. For instance, check this page's history. You can see it records all edits since the very beginning: date and time of edit, the editor's username, and the whole text of that edition. Click on the date and time to see that version of the page.
Be bold also in your proposals; a web site isn't something we want to change every year. Now's the time to talk!
Editing
Editing a page. Every page has an "edit" button across the top. Click it, and you're in editing mode. (Make sure you are logged in, or we won't know who wrote that and will probably ignore what you said.)
Editing a section. You may also edit just a single section by clicking "Edit" to the right of the corresponding heading.
Previewing. Please always use the Show preview button before you push the Save page button to make your changes go live. Even the most experienced users make mistakes.
Basic formatting
This is not a visual editor, so you don't see immediately what you're getting; instead it's a markup language. Here is a simple list of commands:
See Wikipedia:How to edit a page for more detailed explanations and advanced syntax.
Description
You type
You get
Applies anywhere
Italicise text

''italic''

italic

Bold text

'''bold'''

bold

Bold and italic

'''''bold & italic'''''

bold & italic

Internal link


(within Wikipedia)

[[name of page]]
[[name of page|display text]]


Redirect to another page

#REDIRECT [[Target page]]

External link


(to other websites)

[http://www.example.org]
[http://www.example.org display text]
http://www.example.org

Sign your posts
on talk pages

~~~~

Your username 04:32,
17 August 2017 (UTC)

Applies only at the beginning of the line
Headings


A Table of Contents will automatically be generated when four headings are added to an article.

= Help & tips =
== Editing ==
=== Basic formatting ===
==== Level 4 ====
...etc

See above, on this page.

Bullet list

* one
* two
** two point one
* three

Numbered list

# one
# two
## two point one
# three

one
two

two point one

three

 
Thumbnail image

[[Image:Puzzled Puffin.png|thumb|Caption text]]
Help is near
E-mail Júlio for any other questions; or better yet, write on his talk page!
Anyone in the A Rocha community can participate; spread the word!
Participants
Please add your name to the Participants page!
Debate
The discussion about A Rocha's new website is awaiting your suggestions and comments at the following page:
Go there and start giving your input!
Ad blocker interference detected!
Wikia is a free-to-use site that makes money from advertising. We have a modified experience for viewers using ad blockers

Wikia is not accessible if you've made further modifications. Remove the custom ad blocker rule(s) and the page will load as expected.