1. Introduction
Quality Management is a continuous process applied throughout the life of a programme and embraces many different aspects, including:
The quality of the programme's leadership and management processes, including the information needed to make decisions and the reliability of the information provided;
The quality of its deliverables, and their 'fitness for purpose'
The quality of its assessment and measurement activities
The areas where quality management will be focused as far as all City2012 programme streams are concerned will be:
Configuration Management and change control of programme documentation, such as Blueprint, Business Case, Programme Plan etc. to ensure programme status is up to date and accurate;
Quality Assurance and review of outputs from the projects to ensure they are 'fit for purpose', meet stakeholder requirements and enable the organisation to realise the required benefits and achieve the capability described in the Vision Statement.
Programme Governance Arrangements, including:

Roles and responsibilities of the Programme Management Team
Adherence to organisational and industry standards
Consultation and engagement of stakeholders
Appropriate design and implementation of good practices in Programme Management and delivery
Each of these will be presented in the context of the City2012 programme streams in the following sections.
2. Configuration Management
The purpose of Configuration Management is to identify, track and protect the programmes assets. In the context of City2012 this will include the following:
2.1 Programme Configuration Items
Definition
Programme Assets for each programme stream such as Vision Statement, Blueprint etc. form a complete picture of the programmes objectives, how they will be met, benefits expected, at what cost, and when they will be realised.
Programme Configuration Items Asset List
Programme Definition Documents

Vision Statement describing the end goal
Blueprint describing the capabilities of the transformed organisation in its future state
Business Case presenting balance between programmes benefits, costs and risks
Organisation Structure with roles and responsibilities for directing, managing and delivering the programme
Project Portfolio listing the projects and related activities involved in the programme
Benefit Profiles providing the tools for tracking the progress of each benefit identified
Stakeholder Map showing all stakeholder groups, their specific interests in the work and outcomes from the programme
Governance Strategy Documents

Benefits Management Strategy to define how benefits will be managed from identification to realisation
Stakeholder management Strategy to define how stakeholders will be engaged throughout the programme
Risk and Issues Strategy for defining the governance arrangements for handling risks and issues
Quality Management Strategy for defining the governance for managing quality
Resource Management Strategy for defining the resource requirements in terms of staff, facilities, technology for the programme, including how they will be acquired and managed.
Planning Documents

Benefits Realisation Plan presenting the schedule of benefits realisation throughout the programme
Communications Plan presenting the schedule of communication activities with stakeholders throughout the programme
Programme Plan presenting the major planning and control information about the programme, including governance arrangements for monitoring and control.
2.2 External Configuration Items
Definition External Configuration Items are the university's strategy and policy documents which are internal to the university but are independent of the programme. Regulatory and statutory requirements also form external products which the programme needs to track.
External Configuration Items Asset List
Business Strategies

City University Business Plans
City 2012 IS Strategy
Internationalisation Strategy
Regulatory and Statutory Requirements
2.3 Internal Configuration Items
Definition Internal Configuration Items comprises those delivered by individual projects, including tangible outputs such as building and systems, and less tangible outputs such as trained staff.
Internal Configuration Items Asset List
Project Management Products

Project Mandate
Project Brief
Business Case
Project Initiation Document
Highlight Reports
End Stage Reports
End Project Reports
Post Project Review
Lessons Learned
Project Specialist Products

Particular to the project
2.4 Change Control
Configuration Item Identifier
Each Configuration Item needs to be uniquely identified. The identification should also differentiate between successive versions. City2012 will adopt the following conventions.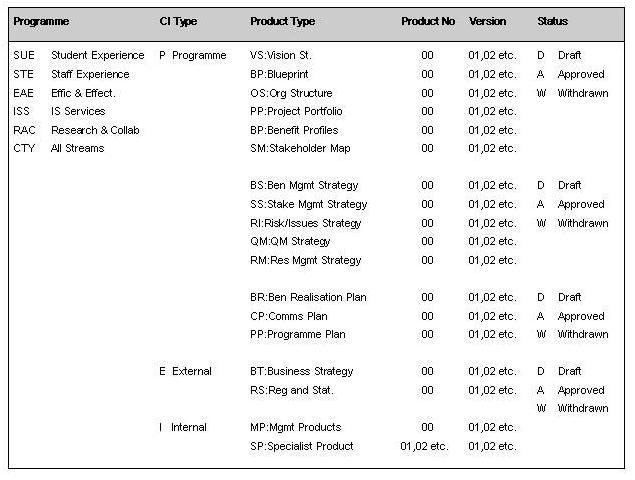 An example for the Vision Statement for the Student Experience Programme is as shown below.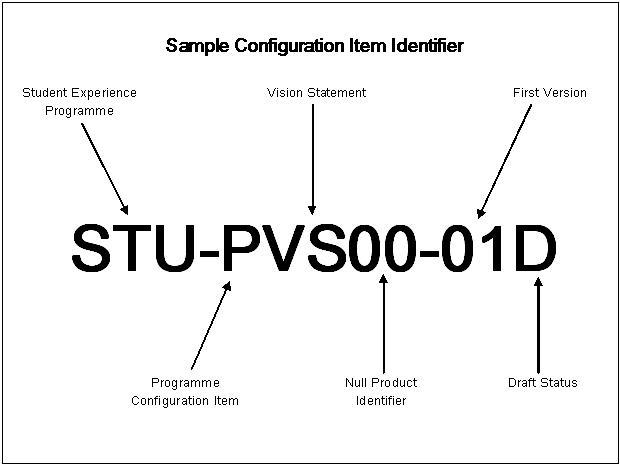 The sample template document for the example above is presented in Appendix A. Templates relating to the configuration items listed above are available at \\samba0\bssg-projoffice\templates

Change Control Responsibilities
| ROLE | RESPONSIBILITY |
| --- | --- |
| Configuration Librarian | Ensuring the Configuration Item identifier conventions listed in 3.1 are followed by raising awareness and auditing. |
| | Assist Programme and Project Managers to identify Configuration Items |
| | Assist Programme and Project Managers with Configuration Management planning |
| | Maintaining a library of all products |
| | Maintain current status information on all products |
| | Accept and record the receipt of new or revised products into the library |
| | Prevent unauthorised changes to products |
| | Control allocation of new version numbers to changed products |
| | Archive superceded product copies |
| | When authorised, issue copies of products for review or information |
| | When authorised, issue new version of products for change or correction |
| | Produce configuration status accounts |
| ' | ' |
3. Quality Assurance
Assurance is a 'value added' function involving the assessment of specific aspects to generate confidence that the programme is being managed effectively and is on track to realise the expected benefits and achieve the desired outcomes. This should be carried out independently of the Programme Management Team.
3.1 City2012 Assurance
The Assurance Items, outcomes and methods are outlined in the following table for all MSP processes.
| Assurance Outcomes | Method |
| --- | --- |
| 1. Defining a Programme | |
| 1.1 Programme Definition Products |  External Review |
| Check for existence and conformance of: |  Board Review |
| *Visions Statements |  Peer Review |
| *Blueprint |  Board Review |
| ' | ' |
---
Return to Research and Collaboration Programme Main Page
Ad blocker interference detected!
Wikia is a free-to-use site that makes money from advertising. We have a modified experience for viewers using ad blockers

Wikia is not accessible if you've made further modifications. Remove the custom ad blocker rule(s) and the page will load as expected.