Welcome to the RAAFACAD mini wiki at Scratchpad!
You can use the box below to create new pages for this mini-wiki. Make sure you type [[Category:RAAFACAD]] on the page before you save it to make it part of the RAAFACAD wiki (preload can be enabled to automate this task, by clicking this link and saving that page. Afterwards, you may need to purge this page, if you still see this message).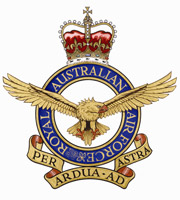 RAAF Academy
This mini-wiki was created to discuss the merits of a Wiki dedicated to the Royal Australian Air Force Academy.
A Brief History
Lifted from the heritage page of the RAAF Museum site here: http://www.airforce.gov.au/RAAFmuseum/exhibitions/heritage.htm
Point Cook is approximately 25km SE of Melbourne, and was the home of military flying in Australia from 1914 until 1992.
More demanding academic and technical training after WW2 led to the establishment of the RAAF College at RAAF Base Point Cook on 1 August 1947, and the Academy was then formed on 1 January 1961.
Expanded history from [http://www.ctie.monash.edu.au/hargrave/duigan_3squadron] RonW
The RAAF College was formed on 1 August 1947. Its sole function was the training of cadets, hitherto the function of No. 1 Flying Training School until 1940. The aim of the college was to provide cadets with theoretical and practical training essential to launch them on careers as permanent officers in the Royal Australian Air Force.
On 1 January 1961, in keeping with the major Air Forces of the world, the college was renamed the Royal Australian Air Force Academy. With the approval and co-operation of the University of Melbourne, cadets entering the RAAF Academy successfully completed their flying and academic courses and graduated with the degree of Bachelor of Science or Bachelor of Engineering.
In 1986 the Australian Defence Force Academy in Canberra assumed the role of training these cadets. The RAAF Academy was renamed the RAAF College and retained responsibility for RAAF officer training through the Officer Training School, Air Force Studies School, External Studies and Basic Staff Schools.
Courses
1 Course (1948?)
29 Course (1976)
30 Course (1977)
37 Course (1985)
Ad blocker interference detected!
Wikia is a free-to-use site that makes money from advertising. We have a modified experience for viewers using ad blockers

Wikia is not accessible if you've made further modifications. Remove the custom ad blocker rule(s) and the page will load as expected.