Utilizing RFTraX sensors in place of RAD7100. The following information is from [1]
About RFTraX
RFTrax develops enterprise telemetry systems, enabling its clients with an end-to-end solution that tracks shipments globally, protects valued assets, and provides critical visibility into the supply chain. By utilizing RFTrax sensors, ETS™ management/alerting software, and application-specific radio technologies, companies can increase supply-chain efficiencies, reduce losses, and ensure the integrity and security of the freight transport industry.
Overview of RAD-CZT
RFTrax introduced its RAD-CZT (Cadmium Zinc Telluride crystal detection) sensor in late 2003, and has made continuous advancements in the product's performance and functionality since then. The company also offers RFID-enabled CZT-sensor systems to detect low radiation levels in container shipments and other transportation systems.
RFTrax sensors are able to differentiate background radiation from actual radiation threats. This level of sensitivity gives first responders a greater, more effective ability to detect radiological threats when compared to using conventional technologies, such as gamma-detection.
The sensors, which are about the size of a disposable lighter, maintain CZT's principal performance benefit: sensitivity to low radiation levels, while also providing a broad dynamic-detection range. This capability allows users to make sensitivity adjustments to the sensor -- minimizing false alarms that might otherwise be prompted by naturally occurring gamma radiation.
More about RAD-CZT
From [2]: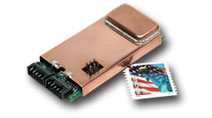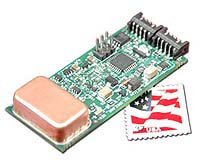 RFTrax RAD-CZT sensors provide 0.1 milliREM/hour sensitivity, easily detecting the lowest radiation levels, to give you exact information. And, unlike scintillator-based technologies that can saturate at higher radiation, RAD-CZT continues to finely discriminate levels up to 1.0 REM/hour. So you can get critical dose-rate information even within severe radiation fields.
RAD-CZT sensors can be programmed to deliver fault / no-fault information with preset thresholds or counts-per-minute and dose-rates. Each sensor carries onboard signal processing, RS 485 communications and logic-level alarm-trigger outputs. Alarm sensitivity and sensor behavior settings are also programmable, along with alarm trigger levels, filtered / unfiltered output, output filter depth, dosimeter mode and more.
Multiple RAD-CZT sensors can be cascade-configured to form a matrix for complex portal detection applications. And each sensor provides 512 Kbytes of non-volatile memory to store exposure data and event logs for later access.
Network Configuration
Other Links
Ad blocker interference detected!
Wikia is a free-to-use site that makes money from advertising. We have a modified experience for viewers using ad blockers

Wikia is not accessible if you've made further modifications. Remove the custom ad blocker rule(s) and the page will load as expected.