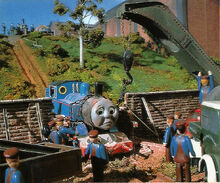 Races, Rescues and Runaways is the fourth book of the The Railway Series Continues and has featured a song called Accidents will Happen after the last story of the book.
Previous Book: Make Someone Happy. (January 22nd, 2015)
Next Book: Spills, Thrills and Chills. (February 26th, 2015)
Message
Dear Friends,
This is the author again and this time i had to take a break from the books for the past 2 weeks and i am back and now i had some dark stories that were contained from the television series again like Britt and David did back in 1998, and now i had feature stories that wee seen Toby get in a dangerous position of a dam breaking up, and Percy who had been getting into a predicament again in the mines, and more wee see muddles all around Sodor and see the engines cause confusion and delay because of George the Steamroller and we will see Oliver make an amazing find on a closed down branch line when he was taking the mail and from your good friend letting you read this book i will like to wish me a good luck.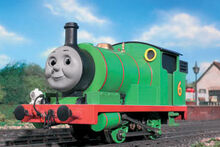 Signed, Percy
Stories
Toby gets in a dangerous muddle when a dam bursts out to get him to float on a dangerous incident.
Percy was complaining about being a put upon engine when he says he is overworked and gets into a disaster of a mine.
George causes trouble for the Fat Controller's engines when he returns from being punished.
After an incident at the yards, Oliver and Toad are sent to do the post run.
Song
Characters
Thomas
Toby
Percy
Harold
Annie and Clarabel
Duck
Oliver
Toad
The Fat Controller
Rheneas
Skarloey
The Refreshment Lady (cameo)
Butch (cameo)
S.C. Ruffey (possible cameo)
Henry (cameo)
Gordon (cameo)
James (cameo)
Cranky (cameo)
Berite (cameo)
Bulstrode (cameo)
Jem Cole (cameo)
Stephen and Bridget Hatt (cameo)
Farmer Trotter (cameo)
Mavis (cameo)
Jeremiah Jobling (cameo)
Donald and Douglas (mentioned)
Trevor (cameo)
Lady Hatt (cameo)
Trivia
This book has adapted Put Upon Percy, Bye George!, Oliver's Find and Toby and the Flood.
This book has the most characters.
Before the intro, Ringo's short intermission from Ladybird is used.
This is the first book audio qualified to have a short intermission for 7 or 9 seconds from Ladybird before the intro of the stories.
This is the first time an engine has made authorization of a book unlike most Railway Series books.
Goofs
The US term "cars" was used throughout the second chapter.
Thomas' coupling rod was missing in one point for chapter two when Percy talks to him.
It was day time when Oliver looks cross.
There is no rain when Toby nervously goes ahead to inspect the great wall of dam.
Story Gallery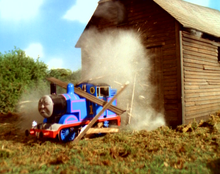 Ad blocker interference detected!
Wikia is a free-to-use site that makes money from advertising. We have a modified experience for viewers using ad blockers

Wikia is not accessible if you've made further modifications. Remove the custom ad blocker rule(s) and the page will load as expected.