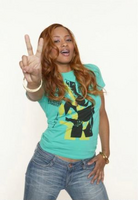 Name: Rachel Davidson
Age: 17
Job: Roller Coaster at the Amusement Park
Best Friend(s): Hannah Wu
Boyfriend: None
Creator: Mariam
Personality
This is what was written on David's character profile
Is a mother. She's kind and nice. She's very smart. She comes in a bus from the bad area every day to come here for a good education. She had a baby when she was 15 and a half and takes care of her child with her mother. Has somewhat of an attitude at times.

Rachel has changed a little over time
If you look through some threads on the forum, you will see how Rachel has evolved.
Coming soon: Mariam will give you an up-to-date paragraph about Rachel's personality.
Family
Rachel lives with her mother, her older sister and her baby girl.
Friends
Rachel doesn't have many friends, but she is very close to:
Melody Stewart
Boyfriend(s)
Rachel has had a boyfriend in the past (thats how she got pregant) but these days shes a bit wary about boys in case she falls pregant again.
Time To Go Back