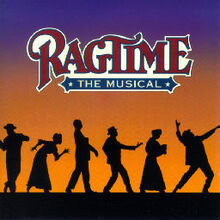 Ragtime is a Musical with a Book by Terrence McNally, Lyrics by Lynn Ahrens and Music by Stephen Flaherty. The music includes Marches, Cakewalks, Gospel and Ragtime and the production is monstly sung-through.
Productions
Original Broadway Production
2003 West End Production
Synopsis
Act One
The quintessential Ameircan experience at the turn of the 20th century begins with the introductions of three families from different worlds.
Act Two
Songs
Act 1
Act 2
Instrumentation