You can learn more about Raines on his website. He lives at Berkeley (CA) Cohousing with his fiancee, Betsy, and is in the process of selling his studio loft home at Swan's Market Cohousing in Oakland, CA, where he has been a member since 1997. Raines and Betsy guest-edited the Cohousing issue of Communities magazine in 2005.
Since 2000, Raines has served on the board of the Cohousing Association of the United States (Coho/US), and most recently has been paperboy for Cohousing magazine and webteam member.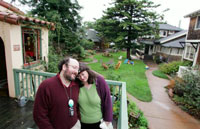 article on voluntary simplicity
Since Spring, 2005, Raines has served on the board of the Fellowship for Intentional Community (FIC). He participated in the Art of Community gathering at First Church of the Golden Rule in 1997-1998, as well as board meetings at Highline Crossing (near Denver) in 2004 and EcoVillage at Ithaca in 2005.
Raines lived at the UC Berkeley student coops while studying Geography and starting the Berkeley Macintosh Users Group (BMUG). He has been creating community for more than a quarter century (here's a recently unearthed example).
Fred: Raines was a panel member at NICA's Annual Spring Meeting in 2004.
Ad blocker interference detected!
Wikia is a free-to-use site that makes money from advertising. We have a modified experience for viewers using ad blockers

Wikia is not accessible if you've made further modifications. Remove the custom ad blocker rule(s) and the page will load as expected.