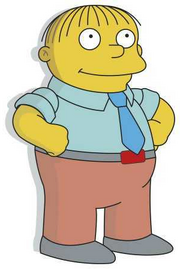 Ralph Wiggum
is a fictional character from the television series, 
The Simpsons
. He is the son of
Chief Clancy Wiggum
and Sarah Wiggum and he's also
Bart Simpson
's best friend.
Counterparts

 WARNING: You may add appropriate counterparts. But, do NOT delete any.
BlackJack, Patrick Star, Stanley S. SquarePants, Mr. Krabs, or Gary the Snail (SpongeBob SquarePants)
Pluto, Goofy Goof, or Mickey Mouse (Mickey Mouse)
Bowser Jr., Toad, Mario, Cody, Joseph, Bowser, Chompy, The Pig, or Melvin (SuperMarioLogan)
Ziggy (LazyTown)
Wreck-It Ralph or Q*Bert (Wreck-It Ralph, both share the same first name)
Pud'n or Billy (The Grim Adventures of Billy and Mandy)
Gallery
See Also
Ad blocker interference detected!
Wikia is a free-to-use site that makes money from advertising. We have a modified experience for viewers using ad blockers

Wikia is not accessible if you've made further modifications. Remove the custom ad blocker rule(s) and the page will load as expected.