Geschichte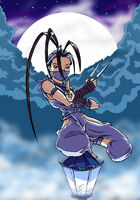 Wie auch schon
Aoshi
so ist auch Ranko ein Klon, jedoch der weiblichen Form der Fusion aus
Lucifer
und
Cloud
.
Charakter
Es scheint eindeutig Clouds alte Art durch. Sie ist ziemlich streitsüchtig und leicht reizbar, besonders wenn ihr irgendwer an die Wäsche will. Allerdings ist sie dann auch offenherziger und kann auch wieder lachen und es scheint, als wäre Cloud in der weiblichen Form wieder eher ein Freund, doch selbst in dieser Form geht sie noch immer ihrem eigenen Weg.
Stärken
Wie auch Cloud und Lucifer, so ist auch sie ein Meister ihrer Techniken.
Schwächen
Durch die Fusion mit Cloud, wurde Lucifers Unbesiegbarkeit quasi beiseite gelegt und er ist deutlich schwächer, da seinen Attacken die dämonische Kraft von früher fehlt. In der weiblichen Form, kommen noch zusätzlich Clouds Schwächen hinzu.
Kampfstil
Die Stile von Cloud und Lucifer.
Ad blocker interference detected!
Wikia is a free-to-use site that makes money from advertising. We have a modified experience for viewers using ad blockers

Wikia is not accessible if you've made further modifications. Remove the custom ad blocker rule(s) and the page will load as expected.