Ad blocker interference detected!
Wikia is a free-to-use site that makes money from advertising. We have a modified experience for viewers using ad blockers

Wikia is not accessible if you've made further modifications. Remove the custom ad blocker rule(s) and the page will load as expected.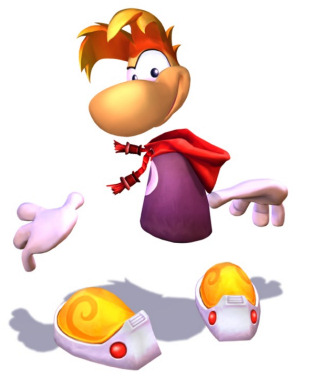 Rayman
is the main protagonist in the 
Rayman
video game series by Ubisoft, and soon he will be in the new movie called
The Rayman Movie
in Universal Pictures.
Video Game Appearances
Rayman 1 (1995)
Rayman 2: The Great Escape (1999)
Rayman Arena (2002)
Rayman 3: Hoodlum Havoc (2003)
Rayman Raving Rabbids (2006)
Rayman Raving Rabbids 2 (2007)
Rayman Raving Rabbids TV Party (2008)
Rayman Origins (2011)
Rayman Legends (2013)
MORE COMING SOON
Voice Actors
Bio
Homeland: The Heart of the World
Species: Raypeople
Skin Color: Tan
Hair Color: Orange and Yellow
Clothing: Purple Shirt with White letter O, Red Hood, White Gloves, Yellow Shoes
Allies: Globox (best friend), Uglette, Globox Children, Teensies, Murfy, Sam the Snake, Carmen the Whale, Bubble Dreamer, Polokus, Clark, Tily, Ly the Fairy, Betilla, Edith Up, Annetta Fish, Helena Handbasket, Holly Luya, Houdini, Andrew, Bzzit, Electoons, Tarayzan, The Musician, Musician's Wife and Child, Joe, Firefly, The Photographer, Otto Pis, Romeo Patti, Gonzo, Barbara, Raygirl Catus (girlfriend), Betina (formerly), Cookie (formerly), Lac-Mac (formerly), Flips (formerly)
Enemies: Mr. Dark, Moskito, Mr. Sax, Mr. Stone, Spece Mama, Mr. Skops, Livingstones, Small Livingstones, Hunters, Antitoons, Red Monster, Clowns, Darkman, Glombrox, Ales Mansay, Earing Pirate, Bomb Pirate, Robo Pirates, Ninjaws, Zombie Chickens, Admiral Razorbeard, Razorwife, Axel, Foutch, Grolem 13, Spyglass Pirate, Jano, Reflux, Knarrens, Gumsi, Andre, Dark Lums, Hoodlums, Begoniax, Count Razoff, Rabbids, Serguei, Rigatoni, Inspector "Archie" Grub, Betina, Cookie, Lac-Mac, Flips
Counterparts (Boy Version)
Counderparts (Girl Version)
Gallery
Main Article: Rayman (character)/Gallery