Recess (TV series) at Wikia
---
[
]
Welcome to the Recess (TV series) mini wiki at Scratchpad!
You can use the box below to create new pages for this mini-wiki.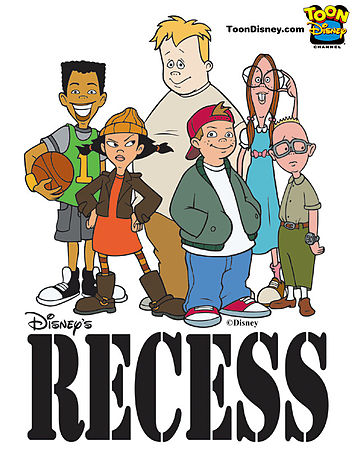 Recess is an American animated television series created by Paul Germain and Joe Ansolabehere (credited as "Paul and Joe"). It aired from September 13, 1997 to September 7, 2002 on Disney's One Saturday Morning on ABC and even on its replacement ABC Kids making it the longest-running show on the lineup. The series focuses on six elementary school students and their interaction with other classmates and teachers. The title refers to the period of time during the school day in which children are not in lessons and are outside in the schoolyard, in North American society. During recess, the children form their own society, complete with government and a class structure, set against the backdrop of a regular school.
In 2001, Walt Disney Pictures released a theatrical film based on the series, Recess: School's Out. It was followed by a direct-to-video second film entitled Recess Christmas: Miracle on Third Street that same year. In 2003, two more direct-to-video films were released: Recess: Taking the Fifth Grade and Recess: All Growed Down. The characters also made an appearance in a 2005 episode of Disney's Lilo & Stitch: The Series.
Recess premiered on ABC on August 31, 1997, as part of the One Saturday Morning block (later known as ABC Kids). Beginning on September 6, 1999, it also began airing on UPN as part of its block, Disney's One Too. The series ended on November 15, 2001, with 65 episodes and six seasons in total. The success and lasting appeal of the series saw it being syndicated to numerous channels, notably Toon Disney, Disney Channel, and Disney XD.
Parodies

 WARNING: You may add parodies. But, do NOT delete any. Complete parodies list
References