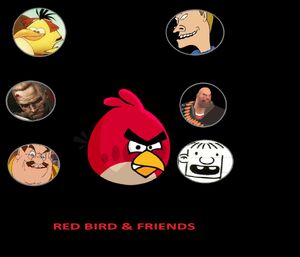 Red Bird and Friends was Creator by angrypoop .
Characters
Main characters
Red Bird (from Angry Birds)
Blue Bird (from Angry Birds)
Yellow Bird (from Angry Birds)
Tank Dempsey
Morshu
Beavis (from Beavis and Butthead)
Heavy
Rowley Jefferson
Video
Trivia
Abracadavre Elena Siegman Call of Duty: Black Ops - Ascension Easter Egg song Kevin Sherwood
Ad blocker interference detected!
Wikia is a free-to-use site that makes money from advertising. We have a modified experience for viewers using ad blockers

Wikia is not accessible if you've made further modifications. Remove the custom ad blocker rule(s) and the page will load as expected.