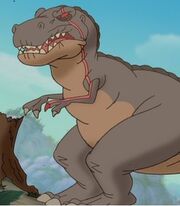 Red Claw is really scary with 2 fast biters naemed Screech and thud. They gest star in Littlefoot's adventures of Lonney tunes back in action, Littilefoot' adventures of Beetle juice, Littlefot's adventures of Dinosaur, Littlefoot's adventures of the jungle book, and more. He tries to eat Winnie the Pooh, Littlefoot, Ash Ketchum, Ttark and the gang in Pooh's adventures of the land before time TV Series, Pooh's adventures of ice age, and more. He also tries to eat SpongeBob Squarepants, Mickey Mouse, Bugs Bunny and the others in SpongeBob's adventures of the land before time Tv series.
Counterparts
Diesel 10 or Devious Diesel (Thomas the Tank Engine and Friends)
Johnny Cuba or Zorran (TUGS)
Ad blocker interference detected!
Wikia is a free-to-use site that makes money from advertising. We have a modified experience for viewers using ad blockers

Wikia is not accessible if you've made further modifications. Remove the custom ad blocker rule(s) and the page will load as expected.