Red Game
(RSN)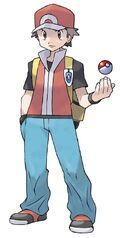 Dados
Lutas Julgadas
~10
Origem
humana
Associado(a) à:
nada

Red Game foi um dos membros da equipe técnica do Blast Battle - Torneio Pokemon. Atuou como juiz na segunda e terceira edições do torneio.
História
Pré Blast Battle
Antes de entrar para o Blast Battle, Red já conhecia vários membros do torneio. Era popular por ser um dos participantes mais aciduos da comunidade dos originais. Red fez suas primeiras aparições no fim do Blast Battle I, foi Plusle quem o apresentou a Pedro Meowth, que deu-lhe uma vaga de juiz para o torneio seguinte. Já no Blast Battle, tornou-se mais tarde dono da comunidade originais, foi ele quem mostrou o Blast Battle ao campeão da segunda edição Shiny Eipam.
Carreira de Juiz
Red Game atuou como juiz durante o auge do Blast Battle antes dos conflitos no Blast Battle II e III. Foi considerado um dos melhores juízes para a época. Foi um dos juízes da final do Blast Battle II. No Blast Battle III, como se dividia em julgar e lutar (com o fake do campeão Grovyle), já não recebia tantos elogios. Teve uma participação mais apagada no torneio, por se destacar tanto em campo. Na época mais competitiva do Blast Battle, lutar e julgar era algo impossível de não dar problemas. Após o Blast Battle III, deixou a carreira de juiz, mas até hoje participa da comunidade, e é um dos moderadores. Red também foi o planejador dos torneios Blast Battle III, Blast Battle Tag! e Blast Battle IV.
Polêmicas
Red se envolveu em uma saia justa por lutar e julgar ao mesmo tempo no Blast Battle III. Por este motivo não pôde julgar muitas lutas, o que acabou levando-o a desistir da carreira de juiz antes mesmo do término desta edição do torneio.
Durante a era em que os noobs travavam uma séria disputa de poder e direitos contra Plusle, Red se manteve neutro no início. Mais tarde acabou se tornando um dos principais aluados de Plusle, juntamente com Harrison. Red era um dos conservadores, e apesar de não agir agressivamente contra os noobs, sempre discordava de suas opiniões.
Red teve uma série de discussões e conflitos de opiniões com um de seus melhores amigos e companheiros do Blast Battle, Pedro Meowth, na época da maior crise do torneio: o Blast Battle IV. Primeiro houve uma discussão mais amena em que Red Game contestava o resultado da luta entre Medicham e Togekiss. Mais tarde, a maior discussão de todas foi em virtude do resutado da luta Tyrogue x Hitmontop. Esta ja envolvia vários outros membros do Blast Battle. Apesar de tudo, os dois se entendem perfeitamente hoje em dia.
Rodapé
Ad blocker interference detected!
Wikia is a free-to-use site that makes money from advertising. We have a modified experience for viewers using ad blockers

Wikia is not accessible if you've made further modifications. Remove the custom ad blocker rule(s) and the page will load as expected.