ReedRichardsRockz LIST OF MOVIES/TV SHOWS/VIDEOGAMES I HAVE SO FAR: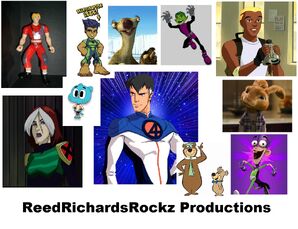 101 Dalmatians
6Teen
Adventure Time
Ben 10
Ben 10 Alien Force
Ben 10 Ultimate Alien
Big Wolf on Campus
Bin Weevils
Brother Bear
Brother Bear 2
Cloudy with a Chance of Meatballs
Flash Gordon: The Animated Series (1996)
Fanboy and Chum Chum
Fantastic Four: World's Greatest Heroes
Gogs
Hop (2011)
Ice Age
Ice Age 2: The Meltdown
Ice Age 3: Dawn of the Dinosaurs
Igor
John Carter (2012)
Johnny Test
Kung Fu Panda
Kung Fu Panda 2
Martin Mystery
MegaMind
Monsters vs Aliens
Pet Alien
Planet 51
Rango
Rio (2011)
Samurai Jack
Skunk Fu
Teen Titans
The Amazing World of Gumball
The Avengers: Earth's Mightiest Heroes
The Croods
The Fairly Oddparents
The Legend of Zelda (TV series)
The Super Hero Squad Show
WALL-E
Yam Roll
Yogi Bear


A LIST OF PARODIES:
Ad blocker interference detected!
Wikia is a free-to-use site that makes money from advertising. We have a modified experience for viewers using ad blockers

Wikia is not accessible if you've made further modifications. Remove the custom ad blocker rule(s) and the page will load as expected.