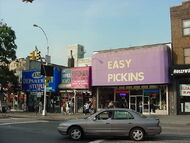 Refsnes er den fattigste og største bydelen i Svenseid. Her foregår byens crackdealing, i tilleg til den store fiskeindustrien.
Viktige gater i Refsnes er : Crack Street, Bowler Street, Treetop Street og Fishtown Avenu

På stranda Silver Beach som danner Refsnes grense mot Stillehavet, finner du ofte fiffen fra Bjerva, og her går også Svenseids partygate Boardwalk.
Ad blocker interference detected!
Wikia is a free-to-use site that makes money from advertising. We have a modified experience for viewers using ad blockers

Wikia is not accessible if you've made further modifications. Remove the custom ad blocker rule(s) and the page will load as expected.