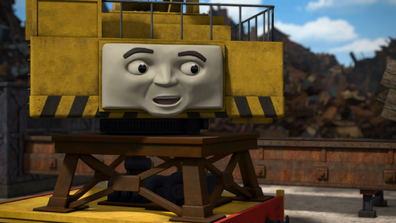 Reg is an Upcoming character
Basis
Coming Soon
Livery
Reg is Painted Yellow with Black Warning Stripes
Appearances
Season 18
Specials
Voice Actor
Theme
Reg's theme is the opening theme from the Season 17 episode "Kevin's Cranky Friend".
Counterparts (Thomas Version)
Counterparts (Connor and Caitlin Version)
Toby (Thomas and Friends)
Old Fordy (Vehicles)
Ad blocker interference detected!
Wikia is a free-to-use site that makes money from advertising. We have a modified experience for viewers using ad blockers

Wikia is not accessible if you've made further modifications. Remove the custom ad blocker rule(s) and the page will load as expected.