Remembering Bruce Noble at Wikia
---
[
]
Welcome to the Remembering Bruce Noble mini wiki at Scratchpad!
You can use the box below to create new pages for this mini-wiki. Make sure you type [[Category:Remembering Bruce Noble]] on the page before you save it to make it part of the Remembering Bruce Noble wiki (preload can be enabled to automate this task, by clicking this link and saving that page. Afterwards, you may need to purge this page, if you still see this message).
== Remembering Bruce Noble ==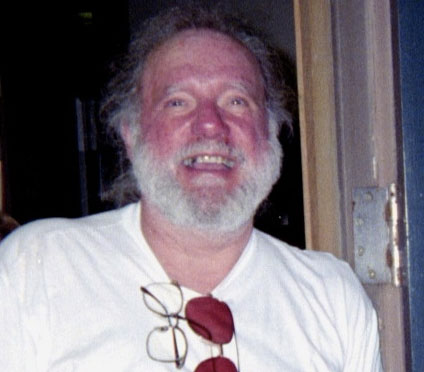 Add your comments below.
---
Bruce's passing took me by surprise. I first met Bruce nearly 40 years ago. Over the years, we got to know each other very well, in many situations, but mostly from sitting across from each other at Enlightenment Intensives. At well over 100 EIs, he doggedly pursued self-enlightenment (mostly) and love-enlightenment. He had a unique flavor in his process. Many people heard him say, "I am Divine me." Sometimes he went to crazy wisdom places that were hard to comprehend, but at all times, his big, burly, generous love would come bursting through. He'd hug me and I'd feel like a frog in the hand of a big kid, squeezed, and eyes bulging a little. I'll miss him, as, undoubtedly, many will. When I heard that he had died, I was on my way to a workshop evening called "Awakening from the dream." I'm thinking that Bruce is having the great good fortune of awakening from the dream. In my reflections of him, he seems to be reporting back to me from the other side and the impression is "all is well". May Bruce have every blessing from here on out.
Edrid
Ad blocker interference detected!
Wikia is a free-to-use site that makes money from advertising. We have a modified experience for viewers using ad blockers

Wikia is not accessible if you've made further modifications. Remove the custom ad blocker rule(s) and the page will load as expected.