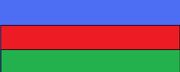 La Republica del Gran Oriname, a veces conocido como la Republica Independentista Soberana del Gran Oriname, es un nombre dado en historiografia a un extinto y enorme estado de Centroamerica, por lo cual estuvo compuesta por las provincias que serian hoy en dia los hermanos paises de la Republica del Mundo , y la Republica del Oriname antes, estos paises en epocas independentista se llamaban "Provincia General del Mundo" y "Provincia Soberana del Oriname".
Gran Oriname como proyecto
En 1821, cuando se creo tambien la Gran Curuba, con Simon Bolivar, el Libertador de la Republica del Mundo, Antonio Galvan Dominguez, junto con su aliado Domingo Alvarez Caicedo del Oriname, hicieron un acuerdo para unir las dos republicas en una sola, llamandolo la "Republica del Gran Oriname", con el cual abarcaban la Republica del Mundo, y del Oriname, despues fueron a un congreso constituyente para consolidar definitivamente a la Republica del Gran Oriname como un enorme estado dentro de Centroamerica, (se llama asi porque esta en el centro de america, no le viste la gracia?.).
Congreso del Oriname: La consolidacion como enorme pais al Gran Oriname
En ese entonces en 1821, como habiamos dicho arriba, despues de que consolidara como nacion la Gran Curuba de Simon Bolivar, Antonio Galvan y Domingo Alvarez, estaban de acuerdo para crear el Gran Oriname, por lo cual se aprobo la ley, y a partir de ese momento el Gran Oriname, se nombro como pais enorme, nombrando Como Presidente de la Republica a Antonio Galvan Dominguez, y Domingo como vicepresidente, y ahi quedaron las cosas, y todo marchaba al compas de la independencia y la paz.
La traicion se le viene en mente
Despues en 1826, Antonio Galvan, se decreto a si mismo Presidente Vitalicio de la Republica, con el cual excluyo de la vicepresidencia a su aliado Domingo, con el cual lleno de ira, dijo que un dia iba a asesinar al libertador de la Republica del Mundo, pero despues se le quitaron las ganas de matarlo, y disculpo una vez mas a Antonio, pero lo hizo en secreto para que Domingo se vengara despues.
El Complot de Octubre
Despues del complot contra Bolivar, en Chibchombia, en la Republica del Gran Oriname, se corrio la polvora y la voz, de que iban a por Antonio, despues de tantas balaceras, el intento de asesinato fue infructuoso, haciendole mas facil la salida a Antonio, por lo cual dias despues decidio excluirlo de la vice-presidencia y seguir mandando, poniendo el cargo de primer ministro, por el cual todos estaban muy decepcionados.
La Renuncia: El Movimiento que separo a todos
En 1830 Antonio Galvan, despues de ver que su presidencia afectaba a una gran parte de la poblacion, ya que algunos seguian con el, decidio que su presidencia no tiene futuro, asi que renuncio a la Presidencia del Gran Oriname, por lo que despues todos estaban felices, pero faltaba un solo paso para disolver definitivamente a la Republica del Gran Oriname.
Movimiento "Normalizador" la disolucion del Gran Oriname
Despues de la renuncia de Antonio, en 1831, decidieron hacer el movimiento "Normalizador", con el cual tenia por plan disolver la Republica del Gran Oriname, por el cual decidieron atacar, y los soldados que le tenian fe a Antonio Galvan, se rindieron ante los atacantes, por el cual se disolvio finalmente la Republica del Gran Oriname.
Legado Politico
A pesar de que la Republica del Gran Oriname, existio juridicamente, tambien se quedo un gran legado, tener a la patria mas unida, para que de repente todo sea feliz, el legado que nos dejo el Libertador Antonio Galvan, fue tambien sus ideas politicas, ademas de libertar a la Republica del Mundo, por lo cual, tambien fue uno de los primeros estados centroamericanos, que se disolvio en 1831, despues de la disolucion de la Gran Curuba.
Intentos de anexion y intentos de admision de territorios en el Gran Oriname
El libertador de la Republica del Mundo Andres Grosheiber, que en ese entonces fue nombrado por Antonio Galvan como "Presidente del Congreso Gran Orinamés", habia anunciado al pais en 1826, que iban a anexar los territorios de los actuales paises de la Republica del Maranhao, Gatunus del Sur y El Reino de Gatunus como nuevos territorios del Gran Oriname, Esos tres paises antes tenian el nombre de:
Reino Portugues de Nostravolti
Unos meses despues de haber dicho eso, los tres paises se negaron a unirse al Gran Oriname.
Presidentes de la Republica del Gran Oriname
Antonio Galvan Dominguez: (1821-1826-1830)
Roberto Tiburcio: (1830-1831)
Augusto Hernandez:(1831-1831).
Domingo Alvarez Caicedo: (1831-1831)
Primeros Ministros de la Republica
Jose Sernapato: (1826-1829-1831)
Rodrigo Alvarez: (1831-1831)
Ad blocker interference detected!
Wikia is a free-to-use site that makes money from advertising. We have a modified experience for viewers using ad blockers

Wikia is not accessible if you've made further modifications. Remove the custom ad blocker rule(s) and the page will load as expected.