ReptilRockz
LIST OF MOVIES/TV SHOWS/VIDEOGAMES I HAVE SO FAR: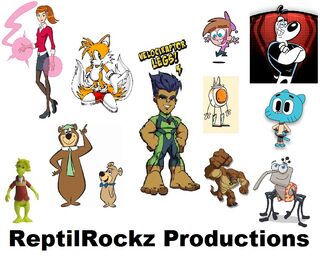 101 Dalmatians
64 Zoo Lane
6Teen
Adventure Time
Aliens in the Attic
Ben 10
Ben 10: Alien Force
Ben 10: Ultimate Alien
Big Wolf on Campus
Bin Weevils (Shorts)
A Bunch of Munsch
Charlie and Lola
Chowder
Dinosaur
Dinosaur King
Dinosaur Train
The Fairly Oddparents
Fanboy and Chum Chum
Hello Kitty
Igor
John Carter (2012)
Johnny Test
Ice Age
Ice Age 2: The Meltdown
Ice Age 3: Dawn of the Dinosaurs
Kung Fu Panda
Kung Fu Panda 2
Looney Tunes
Martin Mystery
Megamind
Monstersd Vs Aliens
My Big Big Friend
Open Season
Open Season 2
Open Season 3
PB&J Otter
Peppa Pig
Pet Alien
Planet 51
Poppets Town
Rango
Reader Rabbit Series
Rio (2011)
Samurai Jack
Scaredy Squirrel
The Adventures of Sonic the Hedgehog
Sonic the Hedgehog (TV show)
Sonic X
The Amazing World of Gumball
The Avengers: Earth's Mightiest Heroes
The Croods
The Super Hero Squad Show
The Sword in the Stone
T.U.F.F. Puppy
WALL-E
W.I.T.C.H.
X-Men (TV series)
Wolverine and the X-Men
X-Men Evolution
Yam Roll
Yogi Bear

A LIST OF PARODIES:

MY FAVORITE CHARACTER:
Reptil (The Super Hero Squad Show)
Gwen Tennyson (Ben 10: Alien Force) (Reptil's Girlfriend)
Timmy Turner
Johnny Test
Gumball (The Amazing World of Gumball)
Tommy Dawkins (Big Wolf on Campus)
Yogi Bear
Boo Boo Bear
Tink (Bin Weevils)
Lem (Planet 51)
John Carter
Ad blocker interference detected!
Wikia is a free-to-use site that makes money from advertising. We have a modified experience for viewers using ad blockers

Wikia is not accessible if you've made further modifications. Remove the custom ad blocker rule(s) and the page will load as expected.