Rig is an oil platform worker and Taekwondo practitioner made his debut in the 2012 title Dead or Alive 5, along with Mila.
A man who has worked on the oil platform since a young age, Rig does not know his real name or where he comes from.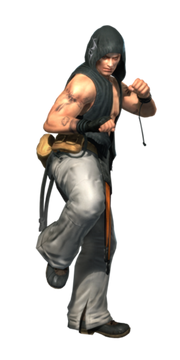 Counterparts:
Terence (Thomas the Tank Engine and Friends)
Bayswater (Theodore Tugboat, both are kind)
Omochao (Sonic the Hedgehog, both are friendly)
Orange Toad (Super Mario Bros., both are orange)
Byron Basset (Tiny Toon Adventures, both a shade of orange)
The Picnic Bug (The Wubbulous World of Dr. Seuss, both barely appear)
Rob (Star Fox)
Bombman (Megaman)
Chris Griffin (Family Guy)
Ad blocker interference detected!
Wikia is a free-to-use site that makes money from advertising. We have a modified experience for viewers using ad blockers

Wikia is not accessible if you've made further modifications. Remove the custom ad blocker rule(s) and the page will load as expected.