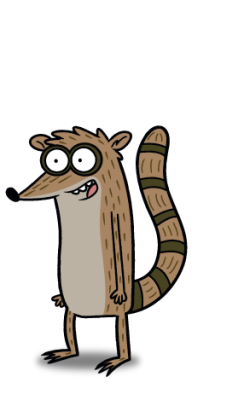 Rigby
is a character from
Regular Show
.
Bio
Species: Anthropomorphic Raccoon
Color: Brown
Friends: Mordecai, Benson, Skips, Pops, Margaret, Elieen, Muscle Man, Hi Five Ghost
Counterparts
Beefy Bert (Horrid Henry)
Mantis or Monkey (Kung Fu Panda)
Sid (Flushed Away)
Jamie Bennett (Rise of the Guardians (2012))
Skidmark (Turbo (2013))
Aaron Natividad (Andre Ighodalo's Day)
Chug (Planes)
Eddy (Ed, Edd 'n' Eddy)
Buzz Lightyear (Toy Story)
Heimlich (A Bug's Life)
Mo (Wall-E)
Hwaorantz (Tekken)
Larry (VeggieTales)
Axl (Mega Man X)
Snuffy (Jay Jay the Jet Plane)
Max (Dragon Tales)
Ben (Nutri Ventures)
Gloxbox (Rayman)
Raj (Camp Lazlo)
Wade Load (Kim Possible)
Jake (Adventure Time)
Counterparts (SpongeBob's New Boat version)

 WARNING: You may add appropriate counterparts. But, do NOT delete any.
Gallery