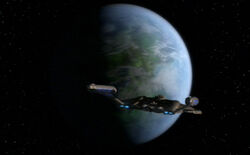 Rigel III is a planet in the Rigel system. The planet once belonged to the Iconians, however when the Rebels attacked; the underground city was placed in ruin. Ahsoka Tano and her squad were sent to Rigel III to try to uncover an attempt to steal Iconian Energy from the city.
Ad blocker interference detected!
Wikia is a free-to-use site that makes money from advertising. We have a modified experience for viewers using ad blockers

Wikia is not accessible if you've made further modifications. Remove the custom ad blocker rule(s) and the page will load as expected.