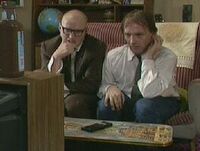 Welcome to a wiki all about Rik and Ade, this should get you to know more about their work in the 80's, 90's and recently.
This wiki is still under construction, so please be patient. :)
Projects
Bottom Live 1: The Stage Show
Bottom Live 2: The Big Number 2
Bottom Live 3: Hooligans Island
Bottom Live 4: An Arse Oddity.
Bottom Live 5: Weapons Grade Y-Fronts Tour
The Dangerous Brothers]]
The Comic Strip Presents...