Rini Tsukino(/(Hart-)Shields) is the daughter of Darien and Serena appearing in Sailor Moon. She has pink hair and red eyes. She wears a white middle school uniform with short puffy sleeves, a red ribbon on the front of her uniform, blue skirt, white socks and red shoes.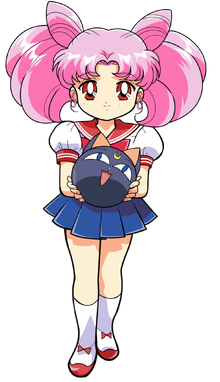 Family
Serena Tsukino (Mother)
Tai Kamiya (Father)
Illene Tsukino (Grandmother)
Ken Tsukino (Grandfather)
Yuuko Kamiya (Grandmother)
Susumu Kamiya (Grandfather)
Sammy Tsukino (Uncle)
Kari Kamiya (Aunt)
T.K. Takaishi (Uncle)
Chiyo Mihama (Cousin)
Likes
Hanging out with Shippo.
Being friendly to Carrie.
Doing ballet.
Dislikes
Watching Melissa (from Child's Play) get taken away by Team Rocket.
The Negamoon Sisters.
Getting hurt.
Counterparts (Girl Version)
Counterparts (Boy Version)
Ad blocker interference detected!
Wikia is a free-to-use site that makes money from advertising. We have a modified experience for viewers using ad blockers

Wikia is not accessible if you've made further modifications. Remove the custom ad blocker rule(s) and the page will load as expected.