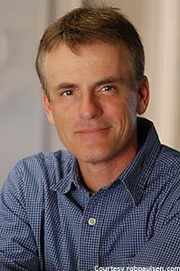 Robert Fredrick "Rob" Paulsen III
, (Born March 11, 1956), sometimes credited as
Rob Paulson
, is an American voice actor, who won two Daytime Emmys.
He voiced Robby from The Real Ghostbusters, Boober Fraggle, Sprocket, and Marjory the Trash Heap from Fraggle Rock, Raphael, Zach the "Fifth Turtle", Wingnut, HiTech, The Grybyx, Mr. Off, Professor Sopho, and Tokka from Teenage Mutant Ninja Turtles (1987), Arnold the Pit Bull, Concord Condor, Fowlmouth, Banjo Possum, Slim Condor, Blink Winkleman, Johnny Pew, Danforth Drake, Mr. Hitcher, Silas Wonder, and Ruffee from Tiny Toon Adventures, Yakko, Dr. Otto Scratchansniff, and Pinky on Animaniacs (and its spinoff, Pinky and the Brain), Digeri Dingo from Taz-Mania, Gladstone Gander from DuckTales, Steelbeak from Darkwing Duck, P.J. From Goof Troop, Hathi and Akela from Jungle Cubs, Antoine from Sonic the Hedgehog SaTaM, Mr. Smartypants and Sammy Melman from Histeria, Brick and Boomer from The Powerpuff Girls, Mark Chang, Happy Peppy Gary, King Grippulon, and Bucky McBadBat from The Fairly OddParents, Fearless Freddie (Thomas the Tank Engine & Friends), Carl Wheezer, Mr. Wheezer, Mrs. Wheezer, and Butch from Jimmy Neutron, Jack Fenton, Technus, and the Box Ghost from Danny Phantom, Rupert Puttkin AKA the Great Puttinski from Codename: Kids Next Door, Peck from Back at the Barnyard, Archie the Raccoon AKA The Archer, Kid Kazoo AKA Stockbroker, Lobster #1, Ad Executive #1, and Technician in The Penguins of Madagascar, Bird Brain from T.U.F.F. Puppy, Doppy from Planet Sheen, Mac Gopher on The Looney Tunes Show (2011), and Donatello from Teenage Mutant Ninja Turtles (2012).
Ad blocker interference detected!
Wikia is a free-to-use site that makes money from advertising. We have a modified experience for viewers using ad blockers

Wikia is not accessible if you've made further modifications. Remove the custom ad blocker rule(s) and the page will load as expected.