Nazareth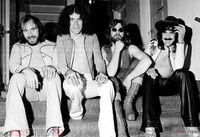 Welcome to the Rock Muzyka mini wiki at Scratchpad!
You can use the box below to create new pages for this mini-wiki. Make sure you type [[Category:Rock Muzyka]] on the page before you save it to make it part of the Rock Muzyka wiki (preload can be enabled to automate this task, by clicking this link and saving that page. Afterwards, you may need to purge this page, if you still see this message).

Legendarny zespół rockowy. Powstał w 1968 roku w Szkocji. W roku 1970 zespół przeniósł się do Londynu, gdzie wydał swój debiutancki album, zatytułowany "Nazareth" (1971). Rok później ukazała się druga płyta grupy ("Exercises"), która wzbudziła spore zainteresowanie, jednak to trzeci krążek Nazareth, "Razamanaz" z 1973 roku, okazał się prawdziwym przełomem w ich karierze. Płyta zawierała przeboje "Broken Down Angel" i "Bad Bad Boy", które znalazły się w UK Top Ten. Również kolejne albumy, "Loud 'N' Proud" (1973) i "Rampant" (1974), cieszyły się uznaniem słuchaczy, a ich producentem był basista Deep Purple, Roger Glover. W roku 1975 ukazała się płyta "Hair Of The Dog", która okazała się największym sukcesem zespołu. Znalazły się tam najbardziej znane utwory Nazareth, jak choćby tytułowy "Hair Of The Dog" i megaballada "Love Hurts" która zyskała status platyny w Wielkiej Brytanii i Stanach Zjednoczonych. Do najlepszych utworów z tej płyty należą także: "Changin' Times", "Beggars Day", "Please don't Judas Me"
Wraz z kolejną płytą, "Close Enough For Rock N Roll" (1976), zmieniło się brzmienie grupy, tak że fani jej klasycznego stylu mogli czuć się rozczarowani. Pomimo, iż zespół już nigdy nie powtórzył sukcesu jaki osiągnął w połowie lat 70., kontynuował działalność i nagrywał kolejne albumy. W połowie lat 80. grupa straciła kontrakt płytowy, co doprowadziło do zawieszenia działalności. W roku 1992 zespół przypomniał o sobie płytą "No Jive", która jednak nie odniosła spodziewanego sukcesu. Kolejną próbę powrotu podjęli siedem lat później, prezentując krążek "Boogaloo". Później grupa skupiła się przede wszystkim na działalności
Do największych dzieł grupy należą także: "No Mean City" 1978 oraz "Expect no mercy" 1977.

Nazareth odwiedził Polskę w 1984 roku. Nie zapominając o swoich polskich fanach, zawitał do naszego kraju także w 2004 roku. 8 grudnia zagrał w warszawskim klubie "Stodoła"
Pomimo braku wielkich sukcesów, grupa pozostaje nadal aktywna.

Dyskografia zespołu ( nie uwzględniając składanek ):
Nazareth [1971] BBC Radio 1 Live in Concert [1972] Exercises [1972] Live in Concert [1973] Razamanaz [1973] Loud 'N' Proud [1974] Rampant [1974] Hair of the Dog [1975] Close Enough for Rock 'n' Roll [1976] Hot Tracks [1976] Play 'N' the Game [1976] Expect No Mercy [1977] No Mean City [1978] Malice in Wonderland [1980] Fool Circle [1981] 2XS [1982] Sound Elixir [1983] Catch [1984] Cinema [1986] Snakes 'N' Ladders [1989] Move Me [1995] Snaz [1995] Boogaloo [1998] Live at the Beeb [1998] Close Enough for Rock N Roll [2002] Snakes & Ladders [2002]

Skład:
Pete Agnew
- gitara basowa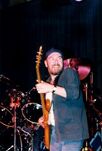 Darrell Sweet
- perkusja
Dan McCafferty
- wokal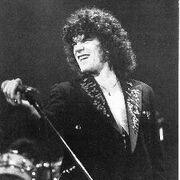 Jimmy Murrison - gitara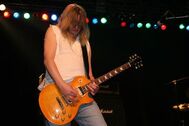 Lee Agnew - perkusja
                Autor: Witold Mosakowski

Ad blocker interference detected!
Wikia is a free-to-use site that makes money from advertising. We have a modified experience for viewers using ad blockers

Wikia is not accessible if you've made further modifications. Remove the custom ad blocker rule(s) and the page will load as expected.