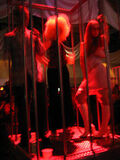 På dagtid et slakteri, på kveldstid en sydende gryte av hormoner. Dansing, sjekking, cracksalg, striptease og festing foregår inne på the Rocket man, så du kan trygt si det er et kjøttmarked døgnet rundt. Hø hø hø.
Klubben er innredet med en blanding av et romfartstema og et akvariumtema, Unge og eldre kvinner danser sin vei gjennom livet her, og det er ikke noe problem å overleve på tipsen herfra. Drinkene er dyre og det er viktig å gi et inntrykk av suksess for å ha suksess på the Rocket Man. Sinnsykt kult sted egentlig
Eier av klubben er Jack Peck, Han har en VIPlosje der han tar med kvinner han vil imponere og forretningskontakter som skal smøres litt. Han har to kvelerslanger i et bur i VIP-losjen som han av og til slipper ut. Slangene kaller han for puppene sine. Hver gang de rømmer drikker han seg full raver rundt i crack-distriktet og skriker "HAR NOEN SETT PUPPENE MINE?"
Ad blocker interference detected!
Wikia is a free-to-use site that makes money from advertising. We have a modified experience for viewers using ad blockers

Wikia is not accessible if you've made further modifications. Remove the custom ad blocker rule(s) and the page will load as expected.