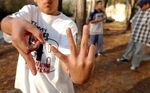 Stadig i konflikt med rivalgjengen the Dicks.

The Rocks dealer crack og pimper horeri West Refsnes, og tjener gode penger på det. Bossen i the Cracks er Spencer Grady. Han var engang overhode for begge gjengene og satte istand en krig mellom de for å tjene enda mer. The Rocks skyr ingen midler, og er inspirert både av Apachenes terrorkrigføring, nazister og Yakuzaen.
Samtidig sliter de med et voldsomt byråkrati, og for å tillatelse til å klippe av en tommelfinger, må du ha stempler fra tre forskjellige instanser, og behandlingstiden kan fort ta en måned. Denne papirmølla har fått det til å murre blant Rocksmedlemmene.