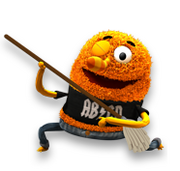 Rocky Robinson
is the son of Mr. Gaylord and Mrs. Margaret Robinson on
The Amazing World of Gumball
. He is one of Gumball's friends and does various jobs at Elmore Junior High, including being the Bus Driver, Janitor, and Lunch Man.
Bio
Species: Anthropomorphic Puppet
Age: 27
Fur Color: Orange
Clothing: Black AB⚡CD Shirt, Blue Jeans
Family: Gaylord (Father), Margaret (Mother)
Friends: Gumball Watterson, Darwin Watterson
Enemies: Miss Simian
Counterparts
Ad blocker interference detected!
Wikia is a free-to-use site that makes money from advertising. We have a modified experience for viewers using ad blockers

Wikia is not accessible if you've made further modifications. Remove the custom ad blocker rule(s) and the page will load as expected.