PierrickCanalFamille's The parody of from 1986 Disney's Movie "Basil the great mouse detective"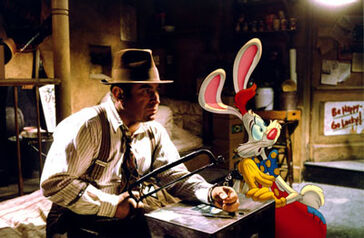 Cast
Roger Rabbit (Roger Rabbit) as Basil of Baker street
Rabbit (Winnie The Pooh) as Dr. Dawson
Belle (The Beauty and the Beast) as Olivia
Maurice (The Beauty and the Beast) as Hiram
Sid Phillips (Toy Story) as Fidget
Jafar (Aladdin) as Professor Ratigan
The Pirates (Peter Pan) as Ratigan's henchmen
Prince Adam (Beauty and the Beast) as Fidget disguised as a baby toy boy
Jasmine (Aladdin) as The Queen mouse
Princess Odette (The Swan Princess) as Lady Mouse
Aladdin (Aladdin) as Sherlock Holmes
Speed (The Swan princess) as Shadow people
Monster Tree (Snow White) as Ratigon's mob
Widow Tweed (The Fox and the Hounds) as Mrs. Judson
Aurora (Sleeping Beauty) as Miss Kitty
Bartok (Anastasia) as Toby
Scar (The Lion King) as Ratigon's cat
and Other People
Trailer
Scenes:[edit]
Kidnapped/"Main Titles"
Rabbit (Dawson) Finds Belle (Olivia)
Enter Roger Rabbit (Basil)
Enter Jafar (Ratigan)
"The World's Greatest Criminal Mind"
The Unusual Footprints/Here's Batrok (Toby)
At the Toy Story
Sid Kidnapped Belle/The Chase
 "There's Always a Chance, Doctor"/Reunion
Jafar's Plan
Roger Rabbit's Observation
At the Pub
"Let Me Be Good to You"
The Bar Fight/Following Sid
Roger Rabbit and Jafar's Confrontation
Jafar's Death Trap/"Goodbye So Soon"/The Queen's Doom
"We'll Set the Trap Off Now!"
At Buckingham Palace
The Big Ben Chase (Part 1)
The Big Ben Chase (Part 2)
"I'll Never Forget You"/A New Case
End Credits/"End Titles and Goodbye So Soon Reprise"
Ad blocker interference detected!
Wikia is a free-to-use site that makes money from advertising. We have a modified experience for viewers using ad blockers

Wikia is not accessible if you've made further modifications. Remove the custom ad blocker rule(s) and the page will load as expected.