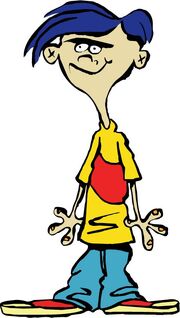 Rolf is a character from Ed, Edd, n Eddy, he is an immigrant.
Counterparts
Larry the Lobster, Mr. Krabs, or SpongeBuck (SpongeBob SquarePants)
Chief Wiggum (The Simpsons)
Grandpa Lou or Sabu (Rugrats)
Perry the Platypus, Baljieet Tjinder, Ferb Fletcher, or Major Monogram (Phineas and Ferb)
Oliver Frensky (Arthur)
Knuckles the Echidna (Sonic the Hedgehog)
Ernie or Bert (Sesame Street)
Mr. Salt (Blue's Clues)
Bolbi, Nick Dean, or Principal Willoughby (Jimmy Neutron)
Herbert the Pervert (Family Guy)
Duke or Mr. Hank Mufflin (Fanboy and Chum Chum)
Sanjay or Chester (The Fairly OddParents)
Grandpa Lou (All Grown Up)
Stinky, Iggy, Brainy, or Ernie (Hey Arnold)
Mr. Garrison or Chef (South Park)
Uncle Traveling Matt (Fraggle Rock) 
Ad blocker interference detected!
Wikia is a free-to-use site that makes money from advertising. We have a modified experience for viewers using ad blockers

Wikia is not accessible if you've made further modifications. Remove the custom ad blocker rule(s) and the page will load as expected.