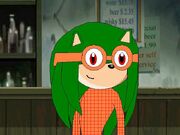 Roman
is Manic and Tikal's 7-year-old son. He is green and is a mixture of a hedgehog and an echidna. He is otherwise known as Jr's cousin (And Sonic's nephew). In the Sonic Jr spin-off of Conker's Bad Fur Day, Sonic Jr's Bad Quill Day he did the part of Rodent. During thw ar chapter was when he met his cousin, Jr for the first time.
Roman's personality is a mixture of Manic and Tails'.
His first appearance is "Sonic Jr's Bad Quill Day".
Counterparts
Ad blocker interference detected!
Wikia is a free-to-use site that makes money from advertising. We have a modified experience for viewers using ad blockers

Wikia is not accessible if you've made further modifications. Remove the custom ad blocker rule(s) and the page will load as expected.