Translation : Sculptor from Mechelen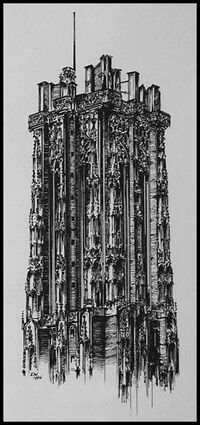 Rombout Pauwels (of Pauli) werd geboren te Mechelen rond 1625 en overleed te Gent op 4 januari 1692. Rombout Pauwels was een architect en beeldhouwer. [1]
Biografie
Rombout Pauwels leerde beeldhouwen bij de Mechelse beeldhouwers Rombout Verstappen en Jacob Voorspoel.
In Rome ontdekte Rombout Pauwels de kunst van de Brusselse beeldhouwer Frans Duquesnoy, wat leidde om - samen met de Brusselse beeldhouwer en architect Hiëronymus Duquesnoy de Jonge (broer van Frans Duquesnoy) en de Antwerpse beeldhouwer Artus Quellinus de Oude - een vorm van "gematigde barokstijl" te introduceren in de Zuidelijke Nederlanden. [2] Via Artus Quellinus stond Rombout Pauwels ook in contact met de Haarlemse architect en kunstenaar Jacob van Campen. [3]
Vanaf 1656 werkte Rombout Pauwels in Gent.
Gekend waren het grafmonument voor aartsbisschop Andreas Cruesen (1660) en een hoofdaltaar (1660-1665) in de Mechelse Sint-Romboutskathedraal.
Ook een grafmonument van monseigneur Karel Maes (Carolus Masius), in de Gentse Sint-Baafskathedraal, was van zijn hand, [4] net zoals het marmeren beeld "Madonna en kind" in de Gentse Sint-Michielskerk. [5].
Leerlingen van Rombout Pauwels waren de Gentse beeldhouwers Hendrik [6] en Jan Matthys. [7]
Externe links
Voetnoten
Ad blocker interference detected!
Wikia is a free-to-use site that makes money from advertising. We have a modified experience for viewers using ad blockers

Wikia is not accessible if you've made further modifications. Remove the custom ad blocker rule(s) and the page will load as expected.