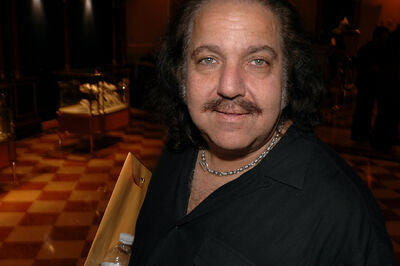 Ronald Jeremy Hyatt
(born March 12, 1953) is an American Actor, Playwright and Critic.
Early life
Ronald was born in Queens, New York, to a middle-class family. His father, Arnold was a physicist and his mother a book editor who served in the O.S.S. during World War II, as she spoke fluent German and French.
Jeremy attended Cardozo High School in Bayside, Queens, where CIA director Geroge Tenet and Actor Reginald VelJohnson were his classmates. Jeremy earned a bachelor's degree in education and Theater and a master's degree in special education from Queens College in New York. He taugh special-education classes in the New York City area and was a substitute teacher for regular classes.
Acting Career
Broadway
Jeremy left the teaching professiong to pursue an acting career in New York City. He made his Broadway debut in Neil Simon's Play California Suite, which was playing at the Hudson Theatre.
Film
Television
Music
Writing Career
Personal life
In 1985, Jeremy married actress and writer Alexandra Williams, sister to actor Robin Williams. They gave birth to six children, three girls and three boys.
Ad blocker interference detected!
Wikia is a free-to-use site that makes money from advertising. We have a modified experience for viewers using ad blockers

Wikia is not accessible if you've made further modifications. Remove the custom ad blocker rule(s) and the page will load as expected.