TheBeckster1000's third movie spoof of "Oliver and Company"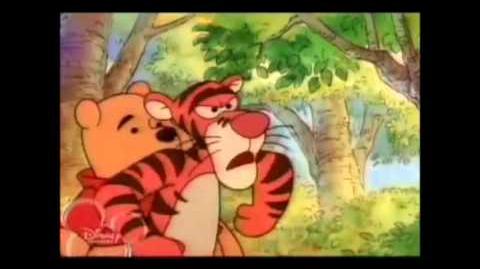 Cast
Skippy Rabbit, Sis Rabbit, Tagalong Rabbit and Toby (Robin Hood), including Lumpy, Kessie, and Heffalump Junior (The New Adventures of Winnie the Pooh) as Oliver's brothers and sisters
Roo (Pooh) as Oliver
John and Wendy Darling (Peter Pan), Pearl Gesner (Home on the Range), and Shanti (The Jungle Book) as passersby
The Wolf from "The Sword in the Stone" as a mangy dog
Pinocchio as the little boy with his mother (although, his mother doesn't appear in part 1)
Stromboli (Pinocchio) as Old Louie
Tigger (Pooh) as Dodger
Vixey (The Fox and the Hound) as a dog on the leash
Maid Marian and Lady Kluck (Robin Hood) as two female singing dogs
Danny and his friends (Cats Don't Dance) as dogs watching Dodger amazed
Baloo and Bagheera (The Jungle Book) as other dogs on leash
Madame Medusa (The Rescuers) as a woman in the red volkswagon beetle
Little John and Friar Tuck, including King Louie and the monkeys (Robin Hood and The Jungle Book) as singing dogs
Singing Rats as themselves
Tigress (Kung fu panda) as Rita
Toothless (HTTYD) as Einstein
Gopher (Pooh) as Tito
Rabbit (Pooh) as Francis
Kronk (The Emperor's New Groove) as Fagin
Stan and Heff (The New Adventures of Winnie the Pooh) as Roscoe and DeSoto
McLeach (The Rescuers Down Under) as Sykes
Penny (The Rescuers) as Jenny
Pacha (The Emperor's New Groove) as Winston
Miss Kitty (Fievel Goes West) as Georgette
Fa Zhou and Fa Li as a couple walking in the sidewalk
Kanga (Pooh) and Duchess (The Aristocats) as a couple dogs in the limo
Trivia
This is the second appearence of Winnie the Pooh. The first being The Great Tigger Detective.
This is Roo's first appearence in a movie-spoof.
Penny is a great Jenny because they both rhyme.
Secenes
Ad blocker interference detected!
Wikia is a free-to-use site that makes money from advertising. We have a modified experience for viewers using ad blockers

Wikia is not accessible if you've made further modifications. Remove the custom ad blocker rule(s) and the page will load as expected.