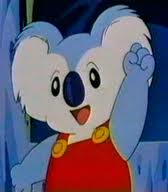 Roobear Koala (Known as Kokki in the original Japanese dub) is the main character from Adventures of the Little Koala (AKA Koala Boy Kokki in Japan). He is an 8-10 year old koala who is the son of Mommy Koala and Papa Koala. He has a younger sister named Laura Koala. He was voiced by Steven Bednarski in the English dub. 
Appearance
Roobear is a light gray and grayish blue Koala with a dark blue egg shaped nose. He wears red overalls with yellow buttons and red shoes with green tongues and white laces.
His swimwear consists of red and yellow swimming trunks and his sleepwear consists of green and red pajamas.
Personality
Roobear is a smart, inquisitive, and athletic koala who enjoys surfing, skateboarding, and baseball. On several occasions, especially if it's a conflict, he can get quite angry.
Counterparts

 WARNING: You may add appropriate counterparts. But, do NOT delete any.