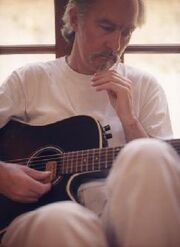 Roy Harper (born 12 June 1941), is an English singer-songwriter who specialises in folk music.
Early Life
Harper was born in the Manchester suburb of Rusholme, England. After the death of his mother during childbirth, he was raised in Blackpool by his father and his step-mother, whom he did not get along with because of her Jehovah's Witness beliefs. Harper's anti-religious views would later become a familiar theme in his music. At the age of 10, he began playing skiffle music with his older brother, David Harper, as well as being influenced by blues music. Leaving school when he was 15, he joined the Royal Air Force only to reject its rigid discipline, and then managed to feign madness (and received Electroconvulsive therapy) in order to get a discharge. Harper then busked around Europe until 1964 when he returned to England and gained residency at London's famous Les Cousins folk club in Soho.
The Sixties
His first album, The Sophisticated Beggar, was recorded in 1966 after Harper was spotted at the Les Cousins club and signed to Peter Richard's Strike Records. It consisted of his sung poetry backed by acoustic guitar with a revox tape machine. CBS Records saw his potential and hired producer Shel Talmy to arrange Come out Fighting Genghis Smith, with the 11 minute blues track "Circle", marking a widening of Harper's audience away from pure folk. Its cover was controversial at the time, depicting a new born baby, complete with umbilical cord.
1969's Folkjokeopus virtually mirrored the previous album, with a 15 minute version of "McGooghan's Blues". Starting since May, 1968, Harper was making regular appearances at free concerts in London's Hyde Park attracting a cult following of fans from the underground music scene. Harper's first tour of the United States followed the release of the album Flat Baroque and Berserk in 1970 which featured The Nice on one track called "Hell's Angels". Its ethereal sound was achieved by a wah-wah pedal attached to an acoustic guitar. Flat Baroque and Berserk also marked Harper's long yet confrontational association with Harvest Records.
The Seventies
After the Bath Festival of 1970, Led Zeppelin wrote a song titled "Hats Off To (Roy) Harper", which appeared on the album Led Zeppelin III. According to Jimmy Page, the band admired the way Harper stood by his principles and did not sell out to commercial pressures. In a mutual appreciation of their work, Harper would often attend live performances by Led Zeppelin over the subsequent decade as well as contribute sleeve photography to the album Physical Graffiti and appear, uncredited, in the 1976 film, The Song Remains the Same.
Harper's 1971 critically acclaimed album was the four song epic, Stormcock, featuring Jimmy Page on guitar (credited as "S. Flavius Mercurius") and David Bedford's orchestral arrangements, who would collaborate on future releases. In 1972, Harper made his acting debut playing Mike Preston alongside Carol White in the John Mackenzie film Made. The soundtrack for this film appeared in the following year with the title Lifemask. His next album Valentine, was released on Valentine's Day, 14 February 1974 and featured contributions from guitarist Jimmy Page. A concert to mark its release was held at London's Rainbow Theatre with Page, Bedford, and Keith Moon on drums. The live album Flashes from the Archives of Oblivion soon followed.
Between 1975 and 1978, Harper spent considerable time in the United States. Pink Floyd's 1975 release Wish You Were Here saw Harper as lead vocalist on the song "Have a Cigar". Floyd's David Gilmour returned the favour by appearing on Harper's next album, HQ, along with Harper's occasional backing band called Trigger (Chris Spedding on guitar, Dave Cochran on bass guitar, and Bill Bruford on drums) and Led Zeppelin's John Paul Jones. The single "When an Old Cricketer Leaves the Crease", taken from the album, is Harper's biggest selling and best known solo record to date. Harper also co-wrote the song, "Short and Sweet" with Gilmour for Gilmour's first solo record released in 1978. He performed the song live with Gilmour at least once in the 80's singing the lead vocal.
Controversy soon followed with the release of 1977's Bullinamingvase, with Watford Gap service station objecting to the lyrics in the song "Watford Gap", which criticised their food ("Watford Gap, Watford Gap / A plate of grease and a load of crap..."). Harper was forced under duress to drop it from future UK copies of the album, though it reappeared on a later CD reissue and remained on the U.S. LP. Bullinamingvase also featured "One of Those Days in England", with backing vocals by Paul and Linda McCartney, which became a Top 40 hit. In April 1978, Harper began writing lyrics for the next Led Zeppelin album, with Jimmy Page, but the project was shelved when Robert Plant returned from his self-imposed sabbatical after the death of his son Karac.
For much of the seventies, Harper was managed, and had records produced, by Peter Jenner.
The Eighties
In 1980, Harper sang backing vocals on the song "Breathing", found on the Kate Bush album Never For Ever.
Harper's 1982 album, Work of Heart, marked the formation of Harper's own record label with Mark Thompson, entitled Public Records. Throughout 1984, Harper toured the United Kingdom with Jimmy Page, performing a predominantly acoustic set at folk festivals under various guises such as The MacGregors, and Themselves. They released an album called Whatever Happened to Jugula? under Harper's name and co-credited to Jimmy Page. Tony Franklin, the bass player in Harper's group at this time would later join Page in The Firm.
The Nineties
Since 1986, Harper had a relatively low public profile, although 1990's Once was a tour-de-force, again featuring David Gilmour and Kate Bush.
After the end of his marriage to Jacqui in 1992, Harper composed the melancholy Death or Glory?. Harper's spoken words can be heard on The Tea Party's 1995 album The Edges of Twilight and he sings on the track "Time" from their 1996 multimiedia CD, Alhambra. In 1998, Harper released The Dream Society, a concept album based on his own life, particularly his youth. Jethro Tull's singer Ian Anderson also sessioned, contributing flute to the song, "These Fifty Years".
Recent Work
The 2000 album, The Green Man was an entirely acoustic effort, with help from the Tea Party's Jeff Martin on guitar, hurdy gurdy and numerous other instruments.
In June 2001, Harper celebrated his 60th birthday with a concert at London's Royal Festival Hall, featuring many guest artists. A recording of the concert was released as a double CD shortly afterwards.
In 2003, Harper published The Passions of Great Fortune, a large format book containing all the lyrics to his albums (and singles) to date, including a wealth of photographs and commentary on his songs.
In April 2005, he released a lengthy CD single, The Death of God. This 13 minute song is a critique of the 2003 Gulf War and features guest guitarist Matt Churchill, who has also joined Harper on-stage at his live performances. May 2005 saw the release of Harper's latest album Counter Culture, a double compilation album featuring songs from a 35 year songwriting period.
Awards
After an influential, individualistic and uncompromising recording career spanning 40 years, Harper was awarded the Mojo Hero Award by the staff of Mojo magazine on June 16th 2005 at the Porchester Hall, Central London. The award itself was presented by long time collaborator and friend, Jimmy Page.
Nick Harper
One of Roy's sons, Nick, is a successful singer/songwriter in his own right. Nick occasionally tours and records with Roy, and has appeared (as guitarist) on a number of his albums since 1985.
Discography
Studio Albums
1966 - Sophisticated Beggar
1968 - Come out Fighting Ghengis Smith
1969 - Folkjokeopus
1970 - Flat Baroque and Berserk
1971 - Stormcock
1973 - Lifemask
1974 - Valentine
1975 - HQ (US title: When an Old Cricketer Leaves the Crease)
1977 - Bullinamingvase (US title: One of those Days in England)
1980 - The Unknown Soldier
1982 - Work of Heart
1984 - Born in Captivity
1988 - Descendants of Smith
1988 - Loony on the Bus
1990 - Once
1992 - Death or Glory?
1994 - Commercial Breaks (Previously unreleased album from 1977. 9 of the 12 tracks are available on Loony on the Bus)
1998 - The Dream Society
1999 - Garden of Uranium (Re-issue of Descendants of Smith)
2000 - The Green Man
Live albums
1974 - Flashes From The Archives Of Oblivion
1986 - In Between Every Line
1992 - Born in Captivity II (Limited edition Cassette only)
1993 - Unhinged (Edited version of Born in Captivity II)
1996 - Live At Les Cousins
1997 - The BBC Tapes - Volume I (Six Volume CD set available individually)
1997 - The BBC Tapes - Volume II
1997 - The BBC Tapes - Volume III
1999 - The BBC Tapes - Volume IV
1997 - The BBC Tapes - Volume V
1997 - The BBC Tapes - Volume VI
2001 - Royal Festival Hall Live - June 10th 2001
Compilations, remixes, etc.
1978 - Harper 1970-1975
1994 - Death or Glory? (Tracks 1 & 9 Remixed)
1994 - An Introduction to .....
1997 - Song Of The Ages (A 3 CD collection of Roy Harper interviews)
1997 - Poems, Speeches, Thoughts and Doodles (A collection of spoken tracks with occasional instrumentation)
2001 - Hats Off (Compilation of collaborative tracks)
2001 - East Of The Sun (Compilation of love songs)
2002 - Today Is Yesterday (Compilation of demo, unreleased and rare material 1964 - 1967)
2005 - Counter Culture
Soundtracks
Collaborations
1985 - Whatever Happened to Jugula? (With Jimmy Page)
Singles / 12" Singles / EP's
1966 - Take Me Into Your Eyes / Pretty Baby
1967 - Midspring Dithering / Zengem
1968 - Life Goes By / Nobody's Got Any Money In The Summer
1972 - Bank Of The Dead / Little Lady
1974 - (Don't You Think We're) Forever / Male Chauvinist Pig Blues
1974 - Home (Live) / Home (Studio)
1975 - When An Old Cricketer Leaves The Crease / Hallucinating Light (live)
1975 - Grown-Ups Are Just Silly Children / Referendum (Legend)
1977 - One of Those Days in England / Watford Gap
1977 - One of Those Days in England / Watford Gap [DEU]
1977 - Sail Away / Cherishing The Lonesome
1978 - When An Old Cricketer Leaves The Crease / Home (studio)
1980 - Playing Games / First Thing In The Morning
1980 - Short and Sweet / Water Sports / The Unknown Soldier
1982 - No-One Ever Gets Out Alive / Casualty (live - Glastonbury 1982)
1983 - I Still Care / Goodbye Ladybird (Acoustic)
1985 - Elizabeth / Advertisement / I hate the white man (live) (12" Single)
1988 - Laughing Inside / Laughing Inside (Acoustic)
1990 - Burn the World (Studio & Live 2 track CD)
1992 - The Methane Zone (4 track CD / EP)
2005 - The Death of God (2 track CD Single)
Downloads
2005 - The Passions of Great Fortune, Vol.1 (iTunes Download)
Videography
1986 - Live in your Living Room
1990 - Once
2006 - Beyond the Door (DVD)
Filmography
1972 - Made
1976 - The Song Remains the Same
External Links
Ad blocker interference detected!
Wikia is a free-to-use site that makes money from advertising. We have a modified experience for viewers using ad blockers

Wikia is not accessible if you've made further modifications. Remove the custom ad blocker rule(s) and the page will load as expected.