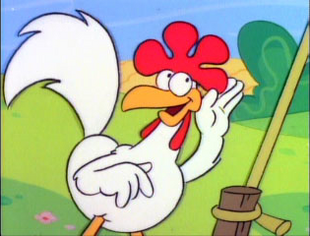 Roy Rooster
is a fictional rooster in
Garfield and Friends
.
Bio
Species: Anthropomorphic Rooster
Feather Color: White
Rivals: Lanolin, Garfield
Enemies: The Weasel, Gort, Wart, Mort
Counterparts (Boy Version)
Counterparts (Girl Version)
Mavis (Thomas the Tank Engine and Friends/The Railway Series)
Sally Seaplane (TUGS/Salty's Lighthouse)
Rebecca (Theodore Tugboat)
Princess Daisy (Super Mario Bros.)
Dulcy the Dragon (Sonic the Hedgehog)
Pam-I-Am (The Wubbulous World of Dr. Seuss)
Muffy Crosswire (Arthur)
Mrs. Puff (SpongeBob SquarePants)
Susie Carmichael (Rugrats)
Edna Krabappel (The Simpsons)
Meg Griffin (Family Guy)
Liane Cartman (South Park)
Lori (King of the Hill)
Rhonda Wellington Lloyd (Hey Arnold)
Aipom (Pokemon)
Honey or Sirica (Kirby)
Leshawna (Total Drama)
Stacy Hirano (Phineas and Ferb)
Ivy Wentz (Good Luck Charlie)
Buttercup (Powerpuff Girls)
Georgia (Casey Jr. and Friends)
Sailor Mars/Rei Hino (Sailor Moon 90s series)
Rainbow Dash (My Little Pony Friendship is Magic)
Ad blocker interference detected!
Wikia is a free-to-use site that makes money from advertising. We have a modified experience for viewers using ad blockers

Wikia is not accessible if you've made further modifications. Remove the custom ad blocker rule(s) and the page will load as expected.