Dandy Livingston's
song "
Rudy, A Message To You
" was released in several versions, the best known today is
The Specials'
one from 1979. After the success of that single Trojan released a remixed version of Dandy's original in 1980.

7"-single: Trojan Records / (Teldec) 6.12678 AC /DE (p) 1980 R&B/Tee Pee Music
Tracks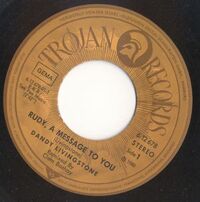 Side 1:

Rudy, A Message To You (Livingstone) 2:42

Side 2:

Tribute To The Prince (Livingston) 2:46
Credits
Remixed by Clem Boshay aka Clem Bushay
Ad blocker interference detected!
Wikia is a free-to-use site that makes money from advertising. We have a modified experience for viewers using ad blockers

Wikia is not accessible if you've made further modifications. Remove the custom ad blocker rule(s) and the page will load as expected.