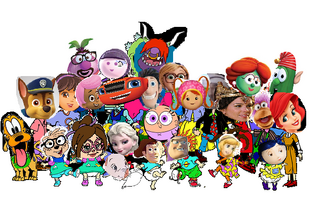 Jimmyandfriends's TV-spoof of "Rugrats"
Cast:
Woody (Toy Story) as Tommy Pickles (they're both good leaders)
Buzz Lightyear (Toy Story) as Chuckie Finster
Elsa (Frozen) as Angelica Pickles
Simon Seville (Alvin and the Chipmunks) as Phil DeVille
Jeanette Miller (Alvin and the Chipmunks) as Lil DeVille
The Backson (Winnie the Pooh) as Reptar
Pluto (Disney) as Spike
Poof (The Fairly OddParents) as Dil
Coraline Jones (Coraline) as Kimi
Princess Eliwony (The Black Cauldron) as Susie
Gru (Despicable Me) as Stu Pickles
Lucy Wilde (Despicable Me 2) as Didi Pickles
Blaze (Blaze and the Monster Machines) as Drew Pickles
Molly (Bubble Guppies) as Charlotte Pickles
Chase (PAW Patrol) as Howard DeVille
Dora (Dora the Explorer) as Bettty DeVille
Gobo Fraggle (Fraggle Rock) as Chas Finster
Ariel (The Little Mermaid) as Kira Finster
The Sultan (Aladdin) as Grandpa Lou
Episodes
Feature Films
Ad blocker interference detected!
Wikia is a free-to-use site that makes money from advertising. We have a modified experience for viewers using ad blockers

Wikia is not accessible if you've made further modifications. Remove the custom ad blocker rule(s) and the page will load as expected.