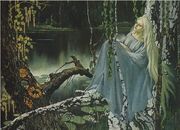 Rusalka je jedna od vodenih vila iz narodnih vjerovanja slovenskih naroda.
Pogrešno se vjeruje da su rusalke nastale od utopljenih djevojaka. Po predanju, vječito su mlade i lijepe, sa dugim raspletenim riđim kosama spuštenim niz leđa. Ako bi neko čuo pjesmu rusalki, ili ako bi ih kako ugledao pri igri, namah bi onijemio. Rusalke takođe i primamljuju i dave ljude, kojima nisu baš naklonjene. Najjače sredstvo protiv rusalki je pelin, a koristan je i bijeli luk.
Rusalke obitavaju sa vodenjacima, a katkad i same u manjim rijekama i jezerima gdje vodenjaka nema. Imaju svoju kraljicu koja ih doziva trubom i podređena je kralju vodenjaka.
Ad blocker interference detected!
Wikia is a free-to-use site that makes money from advertising. We have a modified experience for viewers using ad blockers

Wikia is not accessible if you've made further modifications. Remove the custom ad blocker rule(s) and the page will load as expected.