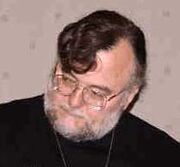 Stephen Michael Stirling is an American alternate history, science fiction, and fantasy author. Stirling was born in Metz, France on September 30, 1953 to an English mother and Canadian father. He has lived in several countries and currently resides in the United States in New Mexico with his wife Jan.
His novels are generally conflict-driven and often describe military situations and militaristic cultures. In addition to his books' military, adventure & exploration focus, he often describes societies with cultural values significantly different from modern western views, especially with a more liberal attitude to sexuality (lesbian characters often figure), in a sympathetic or at least neutral way. One of his recurring topics is the influence of the culture on an individual's outlook and values, with a particular emphasis on the idea that most people and societies consider themselves (mostly) moral.
In the past he has frequently collaborated with other authors, including Harry Turtledove, David Drake, Jerry Pournelle, Anne McCaffrey and Raymond E. Feist.
Stirling, along with Eric Flint, was tuckerized as a Secret Service agent in John Birmingham's alternate history WWII novel Weapons of Choice (2004).
Ad blocker interference detected!
Wikia is a free-to-use site that makes money from advertising. We have a modified experience for viewers using ad blockers

Wikia is not accessible if you've made further modifications. Remove the custom ad blocker rule(s) and the page will load as expected.