Con la entrada en vigor de la
Ley de Prevención de Riesgos Laborales
31/1995 de 8 de Noviembre y del
Reglamento de Servicio de Prevención
, aprobado posteriomente en el
RD 39/1997 del 17 de Enero
, se constituyen los pilares sobre los que se asienta la normativa en relación con la Seguridad en el puesto de trabajo. Posteriormente con fecha 12 de Diciembre de 2003, se aprobo la
Ley 54/2003
de Reforma del Marco Normativo de la Prevención de Riesgos Laborales (B.O.E. 298 de 13 de Diciembre), que incorpora, entre otras, algunas modificaciones a determinados articulos de la LPRL. Trabajaremos esta Wiki estructurandola sobre cuatro grandes pilares:
           * Planes y normas de Seguridad e Higiene laboral.
           * Factores y situaciones de riesgo.
           * Medios, equipos y técnicas de seguridad.
           * Situaciones de Emergencia.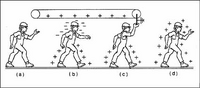 Ad blocker interference detected!
Wikia is a free-to-use site that makes money from advertising. We have a modified experience for viewers using ad blockers

Wikia is not accessible if you've made further modifications. Remove the custom ad blocker rule(s) and the page will load as expected.